As we prepare to ring in a new year, many people can't wait to say goodbye to a very strange year. Whether you will be gathering with a small group or relaxing on the couch, one thing we can all agree on is that a cocktail in hand is a very fitting way to bid adieu to the challenges we have faced this year.
We've got 5 must-try libations perfect for the anticipation of better things to come. We hope you join us in a toast as we kick 2020 to the curb and welcome new beginnings and a fresh start.
Poinsettia Fizz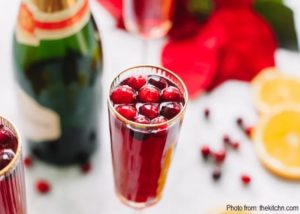 Champagne is a staple for many New Year's celebrations but you don't have to settle for just a glass of bubbly. This 3-ingredient cocktail gives you the wonderful fizz we like from champagne, tart flavor from cranberry juice, and a boozy sweet kick from Gran Marnier. You'll need:
1 to 2 ounces cranberry juice
1 ounce Grand Marnier (or orange liqueur)
Champagne or Prosecco, chilled
Fresh cranberries
Fill a Champagne glass with 1 to 2 ounces cranberry juice and 1 ounce Grand Marnier. Top with Champagne or Prosecco and garnish with cranberries.
Cider Sidecar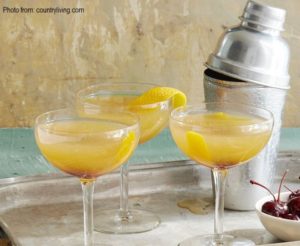 The ultimate winter cocktail, Cognac, Cointreau, and apple cider are a delicious combination perfect for sitting around the fireplace and watching the countdown. Top it with just a splash of Champagne for an extra fancy twist.
2 oz. fresh apple cider
2 oz. cognac
1 oz. Cointreau
1 oz. fresh lemon juice
A strip of lemon zest and brandied cherries, for serving
Place cider, cognac, Cointreau, and lemon juice in a cocktail shaker with ice. Shake until 20 to 30 seconds until the shaker is frosty. Strain into a martini glass and top with zest and brandied cherries. Top with a splash of Champagne if desired.
Pineapple Margarita Sparklers
Sweet and salty with just a little kick, this extra sparkly Margarita will transport you to a tropical island for your New Year's countdown.
1cup fresh pineapple chunks
1cup fresh lime juice
1/4cup fresh lemon juice
1cup silver tequila
1/2cup Grand Marnier (orange liqueur)
1bottle (750 ml) champagne
fresh mint, for serving
In a blender, combine pineapple, lime and lemon juice, and pulse to combine. Strain into a pitcher and add the tequila and Grand Marnier. Chill until ready to serve.
Just before serving, add the champagne then rim glasses with lime and then chili salt. Pour drinks in glasses and garnish with fresh or grilled pineapple slices and mint.
Chipotle Chili Salt
1/4cup kosher or margarita salt
1teaspoon chipotle chili powder (if you can't find it, just mix equal parts of chipotle powder and chili powder)
On a shallow plate, combine the salt and chili powder.
Classic Martini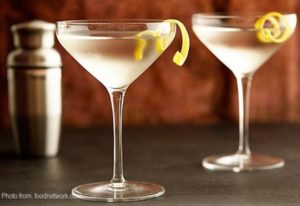 Sometimes foregoing the fancy cocktails and sticking to a classic standard is the best way to remember simpler times. This recipe is shaken – not stirred.
5 ounces vodka or gin
.5 ounces dry vermouth
Olive or lemon twist for garnish
Pour ice, vodka or gin, and vermouth into a glass shaker. Shake and pour into a martini glass. Garnish with olives or lemon twist. Like it dirty? Add olive juice to taste and garnish with stuffed olives instead of lemon.
Boozy Hot Chocolate Buffet with Charcuterie Board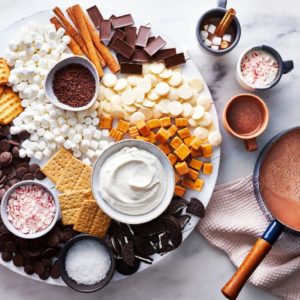 If it's your sweet tooth that needs satisfying this New Year's Eve, we've got just the ticket. Many Liqueurs' or cream-based liquors mix great with hot chocolate so there is no recipe here. It's the dress-up part that's where the creativity comes. A Hot Chocolate Charcuterie Board allows people to pick their own poisons. There is no right or wrong here. Have fun with it. Some ideas include:
A variety of alcohol choices like Baileys, Peppermint Schnapps, Frangelico, and Rum Chata (and/or whatever you like)
Crushed candy canes, mini marshmallows, colorful sprinkles, whipped cream, white and dark chocolate pieces, caramel sauce or caramel candies, buttermint candies crumbled cookies (such as Oreos, pirouettes, or shortbread.
Don't forget to have a way to keep the cocoa hot!
From all of us at Pajama Company, Cheers to you! Happy New Year!