Everyone loves (and needs) a great pair of comfortable pajamas! What better reason to give the gift of Pajamas this holiday season – or for that matter to celebrate those close to you at any special occasion throughout the year.
So now you have the perfect gift idea – but how do you pick the perfect pair of pajamas to give with so many choices out there? We've got you covered. Follow these tips to pick out the ideal pair!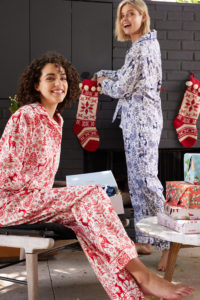 Who's on your gift list?
Pajamas are considered a personal gift and are usually gifted to those close to us.  Think about who you're buying for and ask yourself some questions about their style and interests to help you narrow it down.
Would they prefer pajamas with a more tailored look – like a two-piece classic set? Or, would they be more comfortable in a lounge style set? You can even mix and match pieces with some of the more casual styles.
Color is also something to think about.  Do they have a favorite color or pattern that they really love? The options are endless. You can find pajamas in any color and with tons of different designs to fit any personality.
Think about their interests and what they are passionate about. Are they an animal lover? Gardner? Do they have a love of food & wine? Whatever their interests, it's pretty likely that you'll find a set of PJs that expresses this and it's sure to put a smile on their face.
Where do they live?
Consider where your gift is headed. The fabric of the pajamas plays a big part in keeping a person comfortable in either warm or cold climates. You want to make sure you pick the right pair for the right climate and time of season.
If the person you are buying for lives in warmer climate, consider purchasing pajamas made of a lighter fabric such as cotton or satin. These fabrics are breathable and help to keep you cool. If they live in a colder climate, pick a pair made of a warmer cozier material such as flannel or fleece that will keep them warm when the temperature dips.
What about the Kids?
Kids love snuggling up in their jammies. Pajamas make a great gift for kids and can help ensure they will get a good night's sleep.  Some things to consider when shopping for kids are the age and size of the child.  For infants, footie pajamas or flapjacks are great choices – something that covers them but accommodates for easy diaper changes. Add a snug sack to keep them warm in colder climates.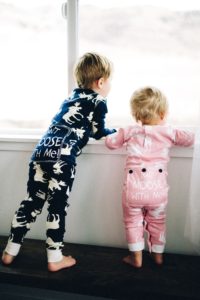 For toddlers, it's a good idea to go with a footless pair of pajamas.  This allows them to be barefoot, so as they learn to walk, they will have more stability and it helps to keep them from slipping. Also, for kids potty training it's a great idea to stick with a two-piece set.
For all kids, Pick a fun colorful pattern, and when choosing the correct size make sure that the pajamas are not too tight or restrictive, but fit comfortably and stretch with the child as they move at night.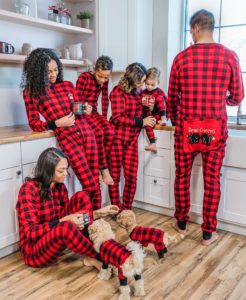 Make it a family affair
If you are looking for a gift for an entire family, then matching family pajamas are a must! It's a hot trend that keeps getting bigger and you can even include the dog! Plus, you'll look great spending your time together and the themed photo opp makes great social media content!
Pajamas make the perfect gift for the special someone(s) in your life. You know they will love them, wear them, and appreciate them.  Happy Shopping.