April showers bring… cold, rainy weekends with the whole family stuck indoors! Make the most of a rainy spring day with easy crafts you can do with the kids. Don't have a PhD in Pinterest? No worries. These are truly simple craft ideas that everyone will enjoy. So easy, you can stay in your pajama pants all weekend. These craft ideas only require items you can find in your house or at your local dollar store. No gold leaf paint required.
11 Easy Rainy Day Crafts for Kids
1. Marker Top Finger Puppets. We're willing to guess you have a dried up marker or two (or thirty?) hiding around the house. Use the caps and materials like construction paper, yarn, twine, or pipe cleaners to make these fun finger puppets featured on The Handmade Adventures of Captain Crafty.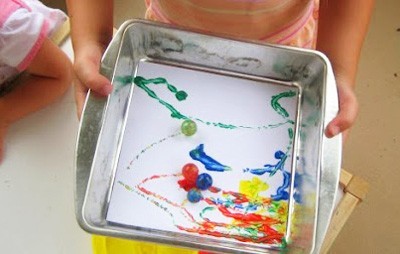 2. Marble Painting. We love this one from The Mother Huddle! It's finger painting with a twist. Squirt a little paint on top of  a sheet of paper inside a baking pan. Drop a marble or small ball inside and let your kiddo twist and turn the pan to roll the ball through the paint and create one-of-a-kind works of art! This craft combines getting messy with the added bonus of a noisy marble rattling around a baking pan — sure to be a hit!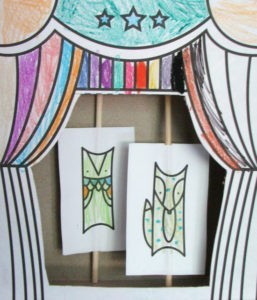 3. Rainy Day Puppet Theater. Maybe combine this idea with the 'Marker Top Finger Puppets'? A rainy day is perfect for a day at the theater, especially if your kids construct it from this cool template that you can run off your printer! Using only a cracker or cereal box, paper, scissors, glue or tape, and some popsicle sticks or skewers — your kids can quickly create their own puppet theater with this craft from BKids.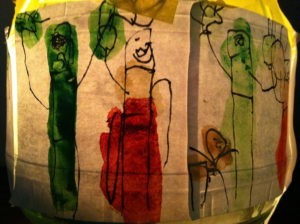 4. Tracing Paper Lanterns. Using translucent tracing paper and watercolors or markers, have your kids create pictures and tape or glue them to old glass jars. Pop a tealight inside and you have mood lighting for dinner, courtesy of your children. The original project idea from Mamascout is a bit more involved if you want to get fancy!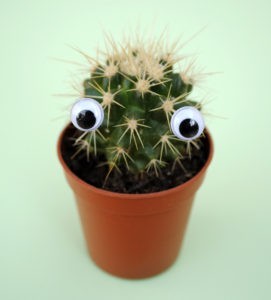 5. Eye-Bombing. Another idea we're in love with! Using a pack of stick-on googly eyes, "eye bomb" common objects in your house to turn them into a source of silliness! This craft would be even funnier if another parent or older sibling were to come home to discover the random peepers! A big belly laugh courtesy of MiniEco.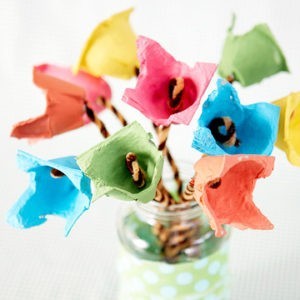 6. Egg Carton Bouquet. The kids with love creating a new springtime centerpiece for your kitchen table. This fun upcycled craft idea comes from Better Homes & Gardens. Simply cut up an egg carton, paint each of the "egg holders," and twist together pipe cleaners to make stems.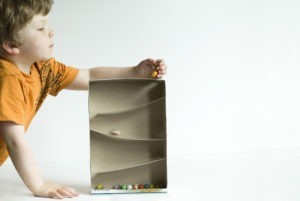 7. Cereal Box Marble Run. This super simple marble track from Made by Joel uses only a cereal box, scissors, and glue to create hours (okay… maybe 40 minutes?) of fun for your little one. You can encourage your kiddos to get more creative and paint or color the box, add stickers, glitter — go wild!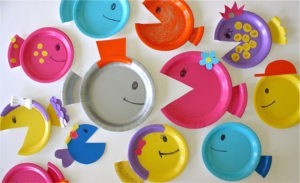 8. Fishy Fun. Have paper plates laying around the house? Create these fun, Pac-Man inspired fish from Made Everyday with scissors, construction paper, and whatever else you have on hand. This is craft is especially fun considering the recent popularity of book The Pout Pout Fish. It could be a great project after story time!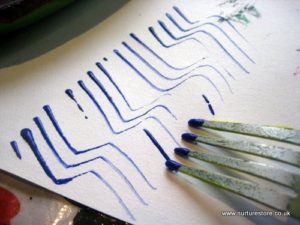 9. Brushless Painting Station. Kids love getting messy. A surefire way to keep them busy for hours is to encourage some messy play. NurtureStore suggests a "brushless" painting station. Using utensils, leaves, twigs, cotton balls, sponges, cookie cutters… let your kids paint with anything but a brush! This craft is guaranteed to grant you a couple hours of silence.
10. Memory Game. This is a simple old school rainy day activity that will definitely pass some time! Curly Birds suggests putting a handful of objects on a tray — all the same color — and have the kids stare at it for a few minutes to memorize what they see. Cover the tray with a cloth and take one object away and have them guess which one is missing. This is not only great for memory, it's a wonderful way to help them build their language skills!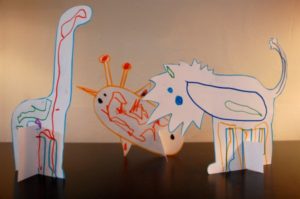 11. Pop-Up Zoo. This pop-up zoo craft idea from Tinker Lab will keep your children amused for the whole afternoon! Have them create the animals they know and recognize and then invent new ones for some whacky imaginative fun!
For more ideas for springtime family fun, visit The Pajama Company at our blog, thepajamacompany.com/blog.