Summer is here in full force which means its patio and picnic time.  Sure you can have beer and wine on-hand for your fun summer activities and get togethers, but there's something about an icy, fruity cocktail during the warm summer months that just makes the mood perfect! Refreshing and delicious, these cocktail recipes will be the perfect addition to any event you have planned.
Rainbow Sangria. A beautiful and colorful cocktail that not only looks pretty and tastes great, but as a bonus, you also get a full serving of nutritious fruit in every glass. We found this recipe at Delish.com.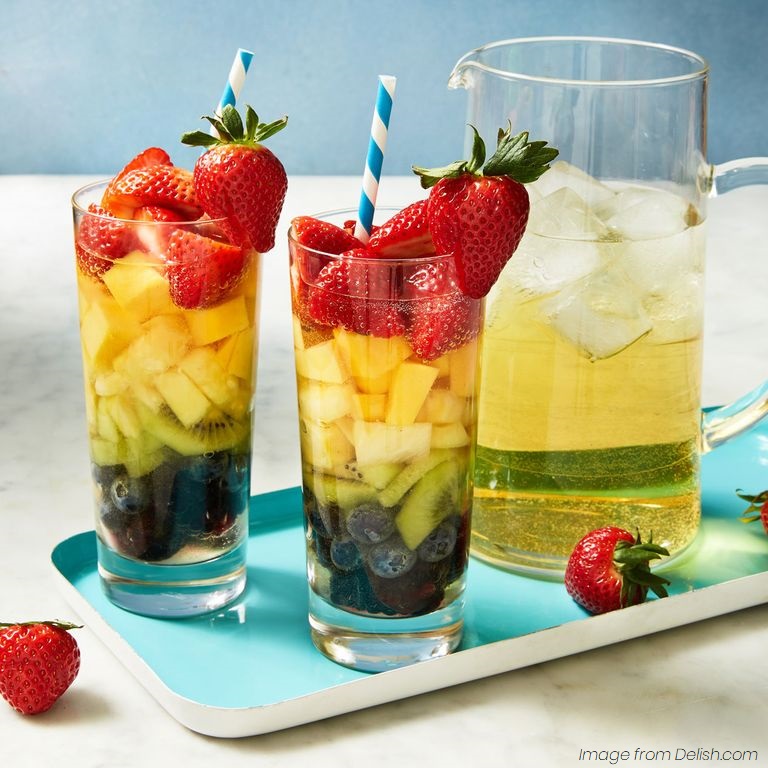 Ingredients
1 1/2 Bottles Moscato – chilled
1/2 c. Triple Sec
Juice of 3 limes
1/4 c. granulated sugar
3 c. each blackberries & blueberries
6 kiwis, peeled and sliced
2 c. each diced pineapple, diced mango & halved strawberries
Directions
In a large pitcher, stir together white wine, triple sec, lime juice, and sugar until combined.
In tall glasses, layer blackberries, blueberries, kiwis, pineapple, mango, and strawberries.
Pour wine mixture over fruit and serve.
Kentucky Lemonade. Nothing says summer like a refreshing glass of lemonade. This recipe takes this favorite hot weather staple and gives it a new twist. This recipe courtesy of The Chunky Chef is simple to make and is sure to be a crowd pleaser.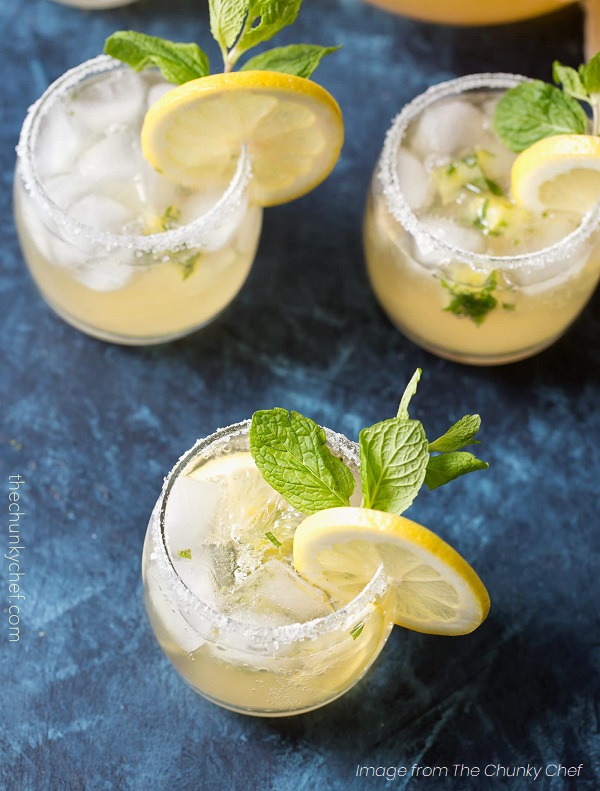 Ingredients
3/4 cup granulated sugar
3/4 cup water
1 1/2 cups fresh lemon juice (from approximately 6 lemons)
1/2 cup fresh mint leaves
1/2-2/3 cup Bourbon (depending on your tastes)
6 cups ginger ale
additional lemon slices (for garnish)
Instructions
In a small saucepan, combine granulated sugar and water and heat over MED heat.  Heat until sugar dissolves into water and mixture is clear.  Simmer 1-2 minutes, then remove from heat. Add lemon juice, mint leaves, and Bourbon, then let mixture cool.
Pour mixture through a fine strainer into a large pitcher to remove solid particles and mint leaves.  Add ginger ale and stir to combine.  Add ice and lemon slices and serve cold.
To serve as pictured:  Add a bit of water, lemon juice or light corn syrup to a shallow plate.  To another shallow plate, add coarse white sugar.  Dip the open end of glasses onto the liquid plate, then onto the sugar plate to create the sugar rim.  Serve drink over ice cubes, garnish with a lemon slice and sprig of mint.
Island Breeze Cocktail. If your summer plans don't involve heading to a tropical island, this cocktail form Crazy for Crust is the next best thing. With just a few ingredients you can make it either as a single drink or as a punch if you need a big batch for a picnic. Minus the palm trees, it's just like you're really there!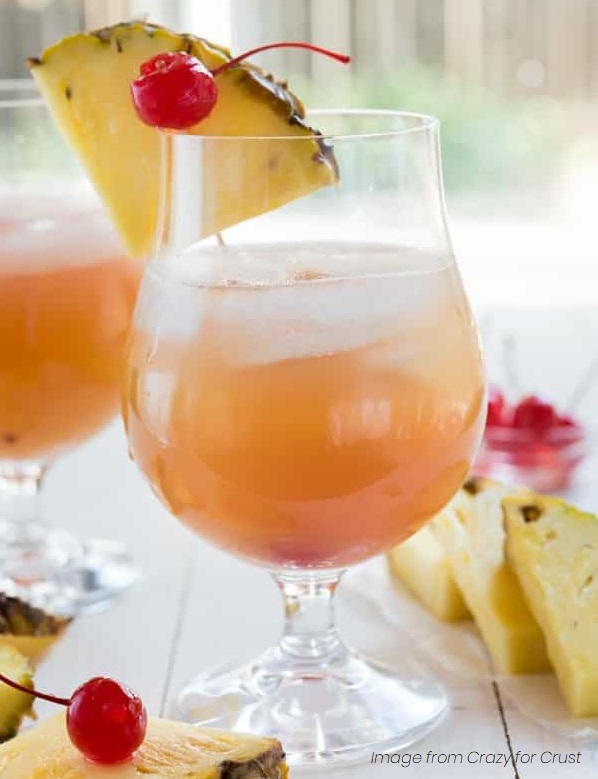 Ingredients
To make one cocktail:
1-2 ounces vodka
6 ounces pineapple juice
Splash of cranberry juice
Pineapple and a maraschino cherry for garnish optional
To make as a punch:
36 ounces pineapple juice
12 ounces vodka more or less depending on how strong you want it
1/2 cup cranberry juice
Up to 1L Sparkling water or diet lemon-lime soda as a filler
Instructions
Pour all ingredients over ice, stir, and enjoy!
Strawberry Mojito. With fresh Strawberries at peak flavor this time of year, you'll get the feeling that you're right there in the patch picking handfuls of juicy berries. Add a little rum, mint, and a few other ingredients and you'll have the coolest, most refreshing beverage you could ever imagine. Thank you to the folks at Allrecipes for this one!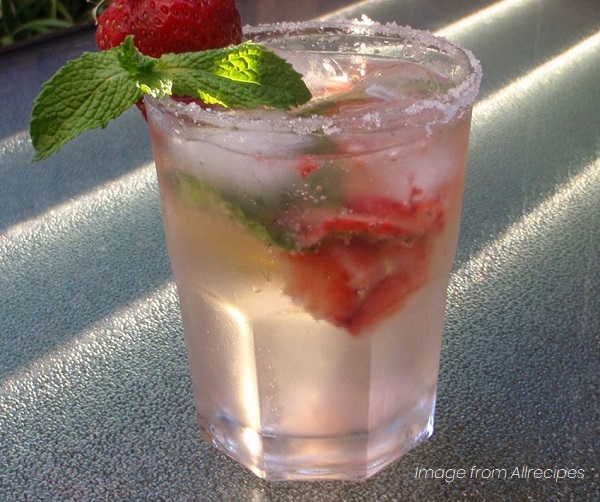 Ingredients
2 tablespoons white sugar, for rimming
2 large limes, quartered
½ bunch mint leaves
7 eaches strawberries, quartered
1 cup white sugar
1 cup white rum
2 cups club soda
8 cups ice cubes
Instructions
Pour 1/4 to 1/2 inch of sugar onto a small, shallow plate. Run one of the lime quarters around the rim of each cocktail glass, then dip the glasses into the sugar to rim; set aside.
Squeeze all of the lime quarters into a sturdy glass pitcher. Toss the juiced limes into the pitcher along with the mint, strawberries, and 1 cup of sugar. Crush the fruits together with a muddler to release the juices from the strawberries and the oil from the mint leaves. Stir in the rum and club soda until the sugar has dissolved. Pour into the sugared glasses over ice cubes to serve.
They say we're in for a hot summer, but we know you'll keep cool with these tasty concoctions. We sure will! If you have other cocktail recipes we need to know about, feel free to tell us about them here or share them with our community over on Facebook.
Cheers!