For some, wearing pajamas outside of the home is a regular occurance. Stepping outside to get the mail. Making a quick run to the grocery store on Saturday morning. Maybe that's just how you roll (we're not here to judge). But recently fashion gurus in magazines like Glamour and GQ have declared that it's officially en vogue to wear your PJs outside of the house and, well, we couldn't be more excited.
GQ recently noted the visible shift in men's fashion towards bold colors and vibrant fabrics, calling them "deeply swaggy." This awards season men donned ensembles that were designed to make a statement, much like the ladies' gowns. Men are leaning towards comfort with breezy fabrics like silk and cuts that are more on the casual side, like nice PJs you don't mind wearing to the grocery store.
In the last decade, women's fashion has made a steady shift towards comfort over outdated notions of "high fashion." Yoga pants and athletic wear have become increasingly popular choices for running errands or getting brunch with friends. These outfits are now the rule, not the exception. The fashion industry responded to this trend with more fashionable athletic wear, trendy leggings, and a wonderful jean-legging hybrid known as "jeggings." Similarly, women's pajamas have also stepped it up with a number of styles you could potentially wear around town. These are some of our favorites.
8 Fashionable Pajama Sets You Can Wear Anywhere

1. Evergreen Voile Cotton Pajama Set by The Cat's Pajamas
This adorable 100% cotton pajama set is perfect for the warmer months. Voile is an ultra-soft semi-sheer fabric, so you might want to pair it with a tank top if you're considering wearing the top outdoors. The evergreen pattern evokes freshly pressed flowers in spring.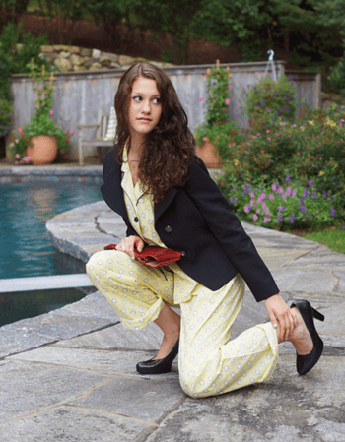 2. Lemon Dots Cotton Pajama Set by PJ Salvage
The cheery soft yellow dot pattern on this woman's pajama set is a classic. The subtle design could easily be worn underneath a blazer, as pictured, or over a pair of jeans to run errands on the weekend.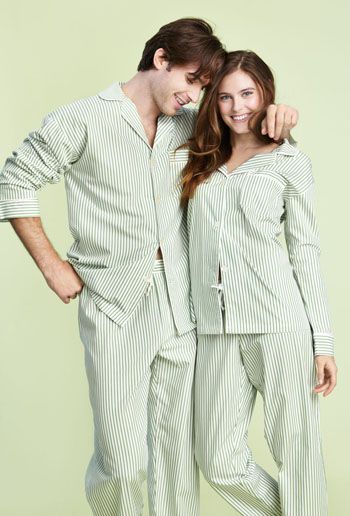 3. Green Pinstripe Classic Poplin Pajama Set by Bedhead
Very in line with trending "pajama style" menswear, this crisp green and white stripe set is comfortable in bed or outside the house. 100% cotton means that the set is made from breathable fabric, making these pajamas a great choice for any time of the year.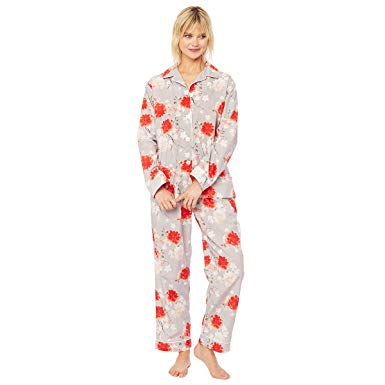 4. Kiku Luxe Pima Cotton Pajama Set by The Cat's Pajamas
Luxe Pima is an ultra-soft, super light tightly woven cotton. These gorgeous pajamas as are as comfortable as they are beautiful. The gray is paired with a modern pop of color in a timeless floral design. In the summertime, you could absolutely wear the top outside with a pair of shorts or rock the pants to brunch with a crisp white shirt.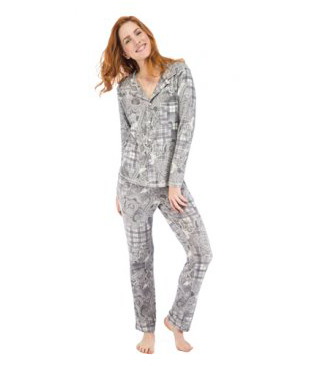 5. Paisley Plaid Vintage Jersey Classic Pajama Set by Munki Signature
In this awkward stage between winter and spring, this 'vintage' paisley and plaid pattern is a great combination. This soft jersey pajama set gives off a "modern cowgirl" vibe in a flattering, classic cut.
6. Blue Chelsea Classic Pajama Set by Bedhead
You don't have to be a soccer fan to sport this classic blue 'Chelsea' pajama set from Bedhead. 100% English cotton is styled with a button down front and notch collar. Look put-together on your way to bed or on your way to pick a paper.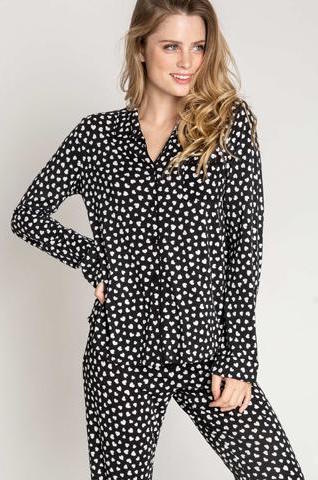 7. Give Love Classic Pajama Set by PJ Salvage
Whether it's a little black dress or a comfortable black pajama top, this adorable pattern from PJ Salvage is always in style. Pair this easy breezy cotton top with a pair of khaki shorts and wedges and you've got an effortless springtime weekend look.



8. Blue 3D Stripe Fine Cotton Pajama Set by Bedhead
Deep V, anyone? This stylish classic pajama cut is flirty and flattering with vertical baby blue and white stripes. Fine 100% cotton will keep you cool and comfortable in the warmer months, but are light enough to sleep in comfortably under a quilt in the winter. The shirt's style is so trendy right now, you could even get away with wearing it on a casual Friday.
If you thought this list was fun, check out The Pajama Company Blog for more posts on family fun, movie and book lists, yummy recipes, and tips for rest and relaxation: thepajamacompany.com/blog