When it comes to Halloween, there are those people who meticulously plan their costume a year in advance — finding the perfect props and carefully sewing, stitching, or gluing their masterpiece together — and then there are the rest of us. Halloween is less than a week away and we're willing to bet you don't have a costume either.
Rather than be the party pooper who shows up to the Halloween bash as themselves, look no further than your pajama drawer. By utilizing your pajamas in these six simple costume ideas, you will be warm, comfortable, and at least a hundred dollars richer for not having ordered a last-minute costume online.
Unlike an inflatable T-Rex or a garden gnome, you can wear your pajamas again and again. Here are costume ideas for the rest of us.
Six Ways to Wear Your PJs on Halloween

1. Babies in Footy Pajamas
No need to splurge on a Halloween costume! Turning your favorite footy pajamas into a fun and comfortable costume is easy. Use your footies and go as a baby for Halloween. Throw your hair in pigtails, add blush for those sweet rosy cheeks, and buy a pacifier or an oversized lollipop. Doesn't get much easier than that!
2. Hillbilly Hunter in Flapjacks
For a playful Halloween costume, pick up a pair of super fun flapjacks and go as a hillbilly hunter. Add a winter hat, a jean jacket, and a pair of boots to complete the look. Pick up a cheap water gun or Nerf gun from a toy store. If you want to kick it up a notch, consider adding a mullet wig!
3. The Third Trimester in a Nightshirt
If there's one thing pregnant women love and appreciate, it's a pair of comfy pajamas… but really, who doesn't? Turn your softest nightshirt into a Halloween costume by hiding a beach ball in a shirt underneath and go as the "Third Trimester." Throw on a pair of warm fuzzy slippers and waddle into the Halloween party with your hand on your back — costume complete!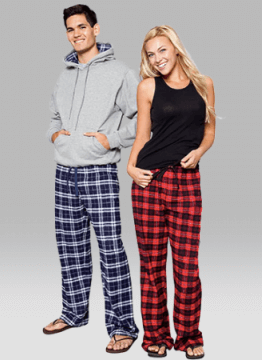 4. College Student in Pajama Pants
When you think of pajama pants, you think of college kids rolling out of bed and sprinting to class. Pull out your warmest oversized flannel pajama pants and grab a backpack or a textbook. To really sell the "college student" look, wear a hoodie or pull a pair of Ugg boots over your jammies.
5. Boxer in a Robe
The champ is here! Turn a soft, plush, silky bathrobe into a Halloween costume by going as a boxer. Put on a pair of athletic shorts, sneakers, high-top athletic socks, and tape your hands with medical tape to complete the effect.
6. Crazy Cat Lady in a Nightgown
If you have a nightgown in your dresser, you already have a funny Halloween costume to wear! Pick up a pack of large safety pins and a few kitten stuffed animals. Pin the cats to the nightgown and you have a cat lady costume! Go the extra mile and throw some rollers in your hair.
With these Halloween costume ideas, there's no need to dress up for the party. For more ideas for getting cozy in your PJs this fall, visit The Pajama Company at our blog, thepajamacompany.com/blog.