With the holiday season just around the corner, we know that many of you have family holiday portraits scheduled in the coming days. When you are planning your family portrait this holiday season, consider some outside-the-box options.
Each year we receive dozens in the mail that, frankly, all look the same — and into the trash they go!  Ditch the matching sweaters and have some fun this winter with pictures that are guaranteed to bring holiday joy.
1. Matching Flapjacks
Nothing brings out your silly side like matching pajamas. Flapjacks are a super cute and fun alternative to color-coordinated formalwear. They are also a great way to create a holiday vibe in you photo before the Christmas decorations go up.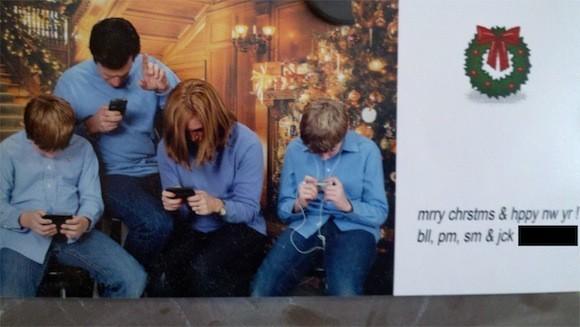 2. The Joy of Family
Poke fun at all that "quality time" you'll be spending with your family this holiday season with a family portrait that's so funny and honest it hurts. The card could also serve as a PSA to your loved ones to put the phones down this holiday season!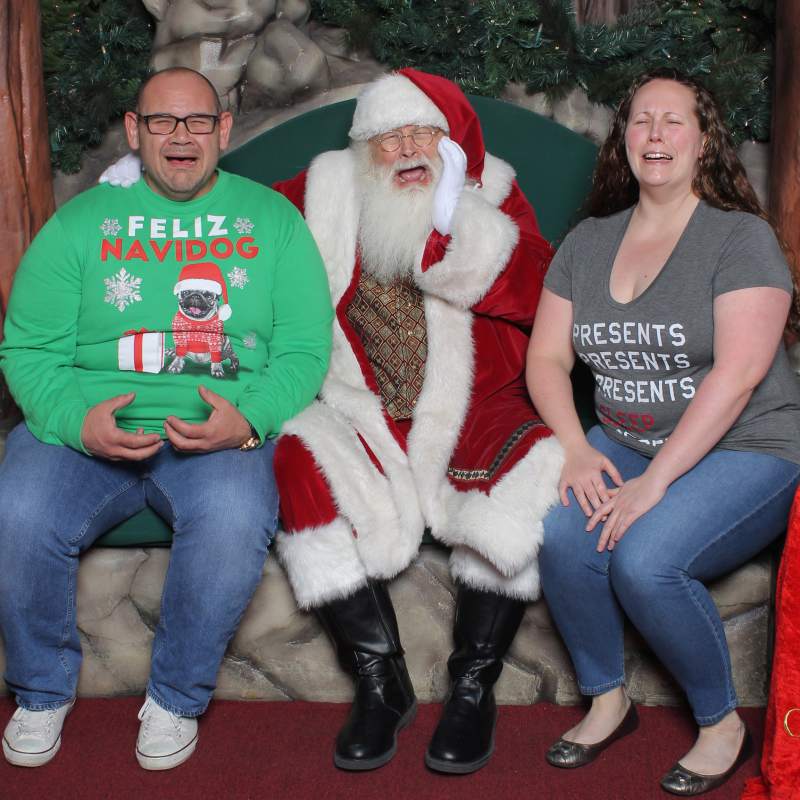 3. Too Big for Santa?
Too big for Santa? No such thing. Go to your local mall and pay Santa a visit for a classic photo with a twist. Instead of having the kids sit on Santa's lap, it's time for the parents to take a turn.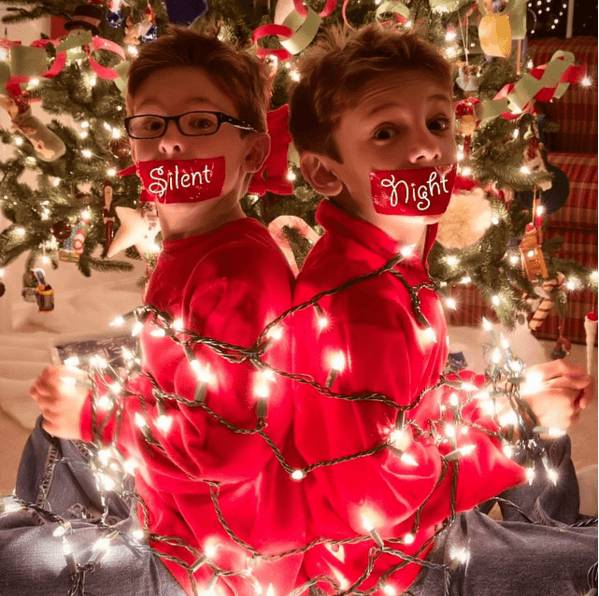 4. Silent Night
Ain't it the truth! With the kids home from winter break, all the parents will understand this endearing play on words. Silent night, indeed.
5. Wrapped Up in the Holidays
Everyone's least favorite part of holiday decorating: the lights. One goes out, they all go out. Why are they blinking now?! It takes three hours to untangle them and another twelve to locate the one lightbulb responsible. Incorporate them into your portrait for an extra festive photo!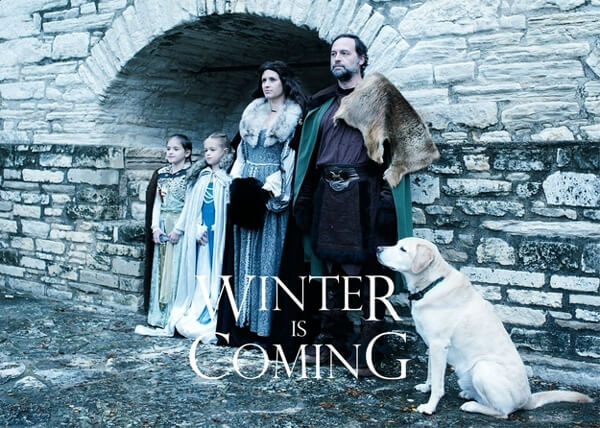 6. Winter is Coming
Have fun with pop culture with this absolutely epic 'Game of Thrones' reference. This photo is sure to be the Christmas card everyone in your family will be talking about this year.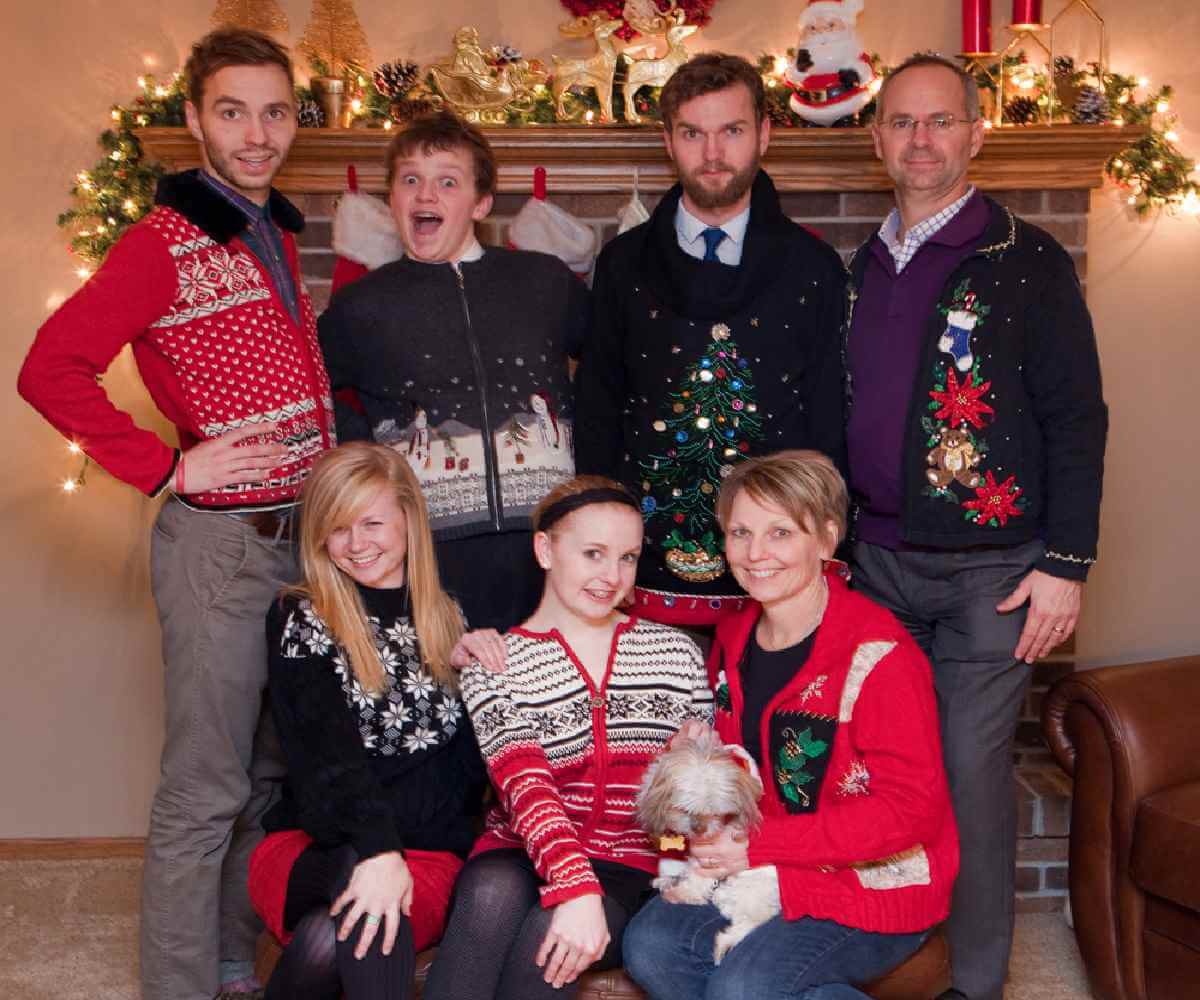 7. Ugly Sweater
The go-to funny holiday photo, ugly Christmas sweaters are a popular theme for holiday cocktail parties and family portraits alike. Don your most hideous Christmas sweater or pick some up at your local thrift shop. Smiles, guaranteed.
8. Love is Everything
Create what is arguably the most relatable family holiday portrait. The holidays are the most stressful time of the year. We have all been to a family gathering or two that didn't go quite as planned… poke fun at the fam with a staged "awkward" holiday portrait everyone can relate to.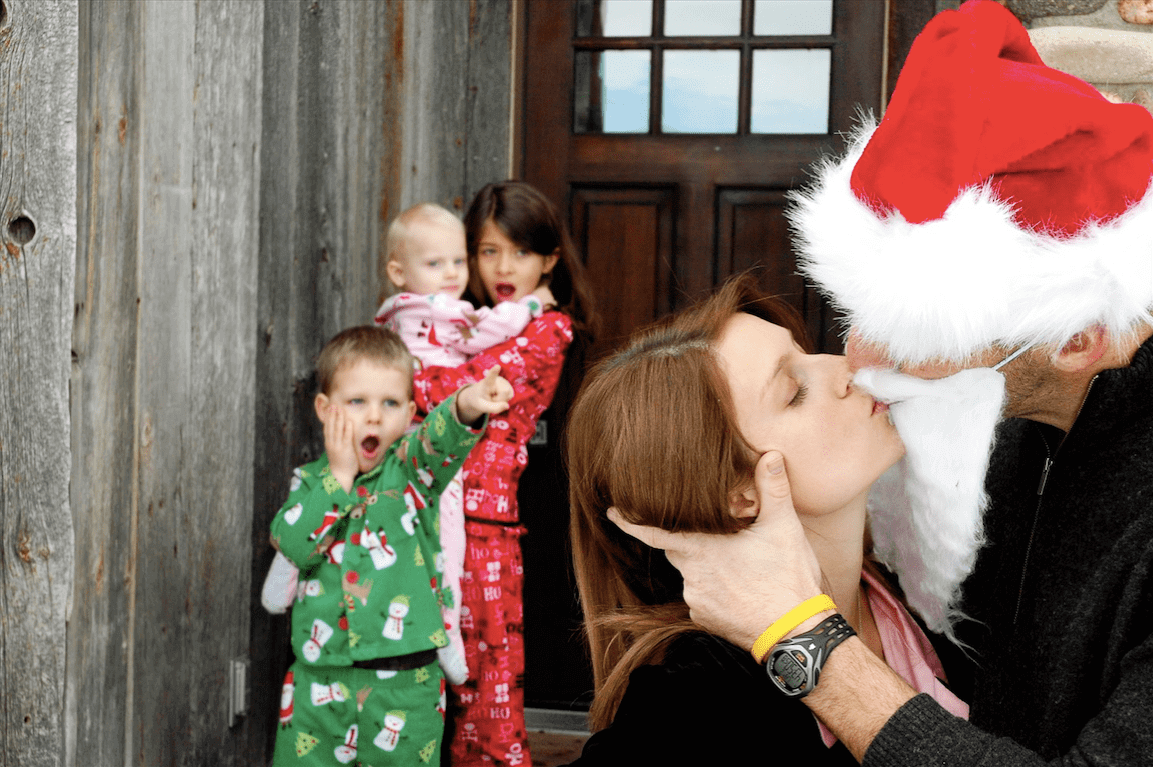 9. I Saw Mommy Kissing Santa Claus
Another funny portrait classic! Dress dad up as Santa and stage a smooch with the kiddos looking on. It's funny, playful, and absolutely adorable. This portrait will be the one you put on your mantel every year.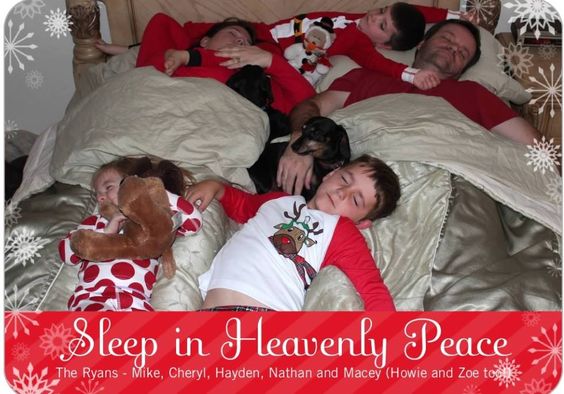 10. Sleep in Heavenly Peace
Sleep in heavenly peace? 'Co-Sleeping' is when a child… and a dog… and a cat… and two more children… end up in your bed at some point in the night. Really, every parent co-sleeps at some point. This wonderful, relatable pose is made even cuter with a set of matching family pajamas!
11. Over-the-Top Family Portrait
Get everyone a matching sweater and lean into the idea of the super-staged over-the-top family portrait. And when we say get everyone a matching sweater, we mean everyone. This perfectly posed pooch in his matching argyle getup makes for a hilarious and adorable family photo.
12. Embrace Your Crying Kiddos
Rather than stress out about grumpy little ones during your family portrait session, embrace it. Some of the cutest and most hilarious family photos are the less-than-perfect ones we never planned for.
For more ideas for getting festive in your PJs this holiday season, visit The Pajama Company at our blog, thepajamacompany.com/blog.