As the days get shorter and the colors of fall give way to frost, our lives become wrapped in tradition. It begins with Halloween: trick-or-treating, neighborhood Halloween parties, themed family costumes, or just stealing all the peanut butter cups out of your kid's candy stash… no matter how big or how small, the shift from fall to winter signals a shift into a season filled with traditions and memories that will last a lifetime.
There are popular traditions that you share with others, such as the turkey you might be cutting into in the coming days, and then there are ones that are unique to you and your family. Young families have the special and unique opportunity to start traditions with their families and choose what their children will remember from their childhood about this special season — and might pass on to their own.
Here are a few ideas for new traditions you might like to start with your family this holiday season.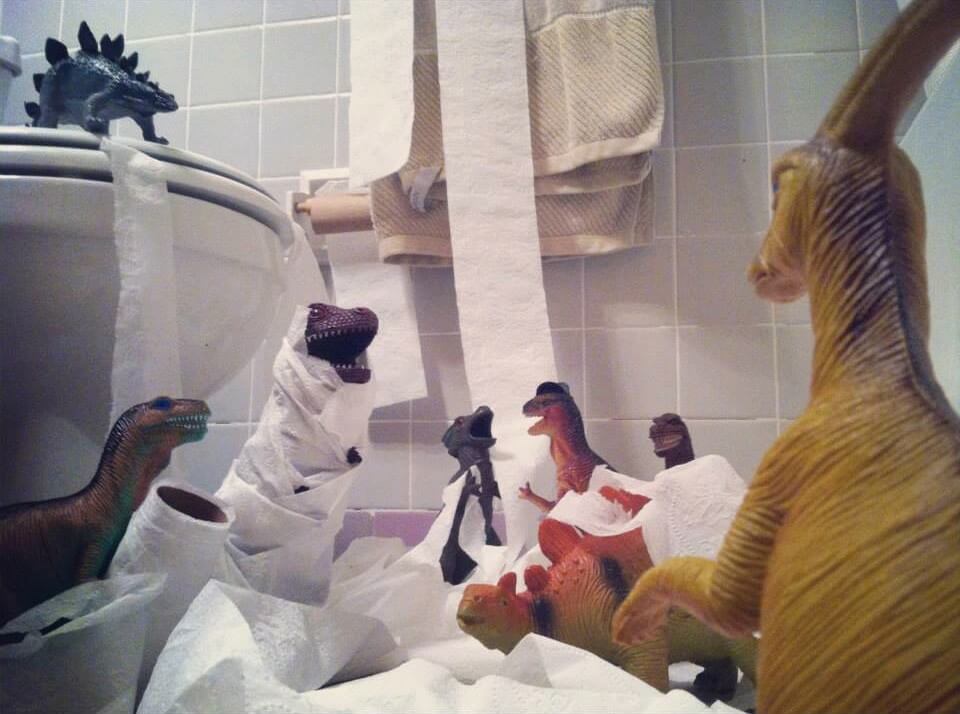 1. Dinovember
"Dinovember" has become a popular new tradition that families are adopting. Take a common toy that many children have — such as plastic dinosaurs — and make it appear that the toys come alive at night and get into mischief during the month of November. This tradition sparks their imaginations during a season best known for magic.
2. Celebrate the First Freeze
Instead of dreading the icy winter weather, celebrate the first time the temperatures dip below freezing. Treat your family to hot chocolate and make a pile of s'mores in the kitchen to warm everyone up. This celebration is even better in a pair of footies!
3. Holiday Book Exchange
Make the most of the cozy couch time this winter and host a family book swap. Swap books within your immediate family or encourage your family and guests to bring books to Thanksgiving dinner. It's a wonderful conversation starter and you might be surprised to find that you share a similar taste in literature with another relative.
4. Pajama Friday + Holiday Movie
We've heard of wearing matching family pajamas on Christmas Eve, but why not break them in the day after Thanksgiving? Signal the beginning of the holidays by spending the day digesting in your matching PJs and watching your first Christmas movie of the season together — while eating turkey sandwiches of course!
5. Thanksgiving Leftover Cookoff
Get creative with your Turkey Day leftovers and challenge everyone in the family to make new dishes. Make it a group effort and snack on everyone's creations throughout the day!
6. Brain Teasers
Choose a brain teaser each day for the month of December — or take turns choosing so no one is left out of the fun! Post each day's brain teaser where everyone can see it, like on the fridge. Each night at dinner, everyone says what they think the answer is. It's a fun way to for the family to bond throughout the month.
7. Advent Hunt
Instead of the traditional Advent calendar, hide little Christmas treats for your kids around the house each day in December. Tuck tiny treats into their coat pockets, backpacks, under their pillows, and next to their toothbrushes. Keep the magic of Christmas going all month long!
8. 12 Days of Christmas
Younger generations are making an effort to combat the over-commercialization of Christmas by raising children with one present on Christmas Day and a stocking stuffed by Santa. To extend the giving season, wrap a children's book for each of the 12 days leading up to Christmas. Kids can take turns each night opening a book and you can read the book together as a family. In keeping with the idea of combating commercialization of the holiday, purchase the books from a secondhand bookshop or thrift store.
9. Our Favorite Things
Many families celebrate Christmas Eve by opening a small gift. As the kids get older, a fun twist is to share your 'favorite things' a la Oprah. Everyone purchases one small gift for everyone in the family — a favorite chocolate, coffee brand, slippers, skincare product, funky iPhone cover… anything small that you enjoy and want share with your family.
10. Sparkling New Year's
Stay up late with the family and count down until midnight. Cozy up in your pajamas and enjoy snacks and wait for the ball to drop. When the moment arrives, celebrate the coming of the New Year by lighting sparklers and letting the kids run around outside in the brisk winter air. A simple and beautiful way to welcome the New Year together.
11. New Year's Day Brunch
One last hurrah! For the families that adore the holiday festivities, send off the season with a bang. Have an over-the-top New Year's Day Brunch, complete with champagne or sparkling cider and an elaborate feast. For those who are too tired to cook, order a smorgasbord of everyone's favorite takeout and toast the end to another successful holiday season!
12. Family Fun February
Once the holidays are over, most people are faced with a long winter ahead. Put an end to the winter blues and break up the monotony of the day-to-day with 'Family Fun February.' One night a week, pick an activity to do together: board games, a movie night, a pizza party. It doesn't need to be big or elaborate, just a time to connect with each other.
For more ideas for getting festive in your PJs this holiday season, visit The Pajama Company at our blog, thepajamacompany.com/blog.