As we approach Halloween, it's time to start thinking about costumes and how we will dress-up this year. Usually we only think of wearing masks during Halloween, but as we all know, 2020 has been far from normal. We've been wearing masks for months.
Luckily for us, face mask manufacturers have provided us with just about any color, style, pattern, or design you could want in a protective face covering.  This makes it really easy to incorporate them into your Halloween costume. With only minimal effort, you can have a super cool costume all while doing your part to make sure everyone around you has a safe and enjoyable holiday.
We're quite positive there will be lots and lots of creative people out there coming up with outrageous ideas for costumes using face masks, but we're all about simple and quick so you can spend less time designing, and more time enjoying.
Doctor or Nurse: A simple disposable mask and some scrubs is all you need but you could always add a stethoscope if you're a Dr. or maybe a hat for a nurse to give the costume a little extra flair. The members of the medical community are truly hero's, so if you'd like to really stand out, we love the idea of honoring them by incorporating a big "thank you" somewhere on your outfit.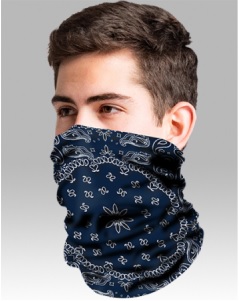 Cowboy/Cowgirl: Jeans, boots, and a western shirt should about do it. Then you can use a bandana print gaiter as your mask to round out the look. Want to make people laugh? Carry a hobby horse with you!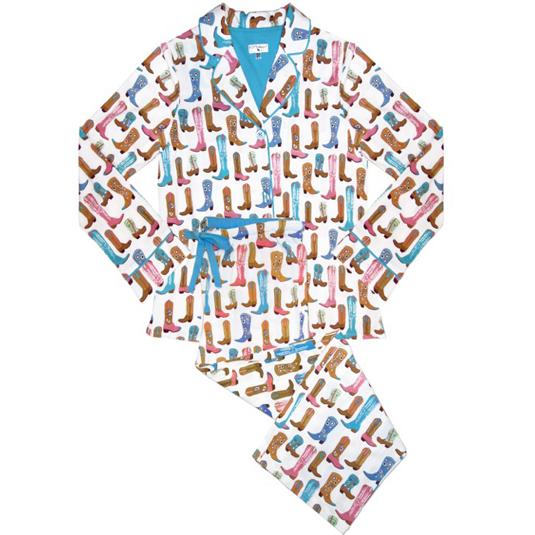 Ninja: These warriors are usually covered from head to toe with the exception of their eyes so use your imagination when creating this fun costume. Don't forget the (plastic) sword.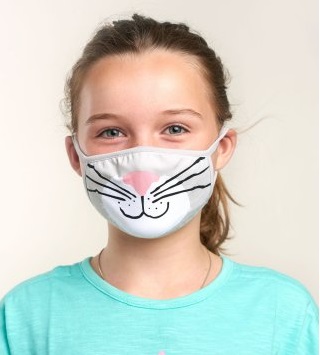 Animal: You can find just about any animal face mask you want on the internet. From Dogs and Cats, to pigs and bears, if you're an animal lover there's something out there for you. A fun idea would be to create a family "zoo" where everyone is a different animal!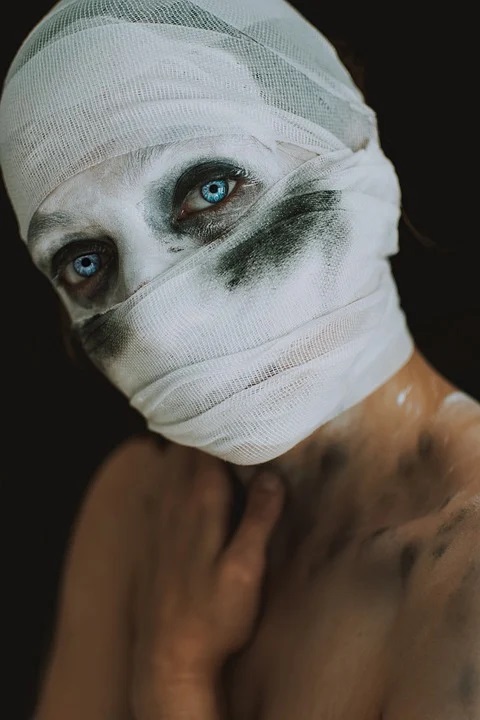 Mummy: A white mask, a whole lotta gauze and you've got a super scary Halloween costume. Not interested in wrapping your whole body in bandages? Wear white pants and a white shirt and just wrap your face. That will make it easier to use the restroom too!
Painter/Drywaller: Again, all you need is some whites splattered with some paint if you're a painter or some jeans and a t-shirt with a little faux drywall dust (we recommend cornstarch) and you're ready to go. You can add the appropriate tools of the trade for some extra bling if you like!
Coal Miner: A hat with a light, a flannel shirt, a pair of jeans and some work boots should do the trick for this costume. Maybe smear a little black makeup on your mask and face for the real miner look.
Bank Robber: You can wear just about anything for this costume and a gaiter mask is the perfect accessory. Throw in a couple of water guns and your ready to go!
Clown: Some crazy clothes and a clown mouth drawn on your mask and you're all set. You can be a happy clown or a scary clown – you're choice. In case you're interested, we prefer happy clowns.
Create your own: There are tons of ideas on the World Wide Web for painting up a simple disposable mask into just about anything. You can make a jack-o-lantern face, add rhinestones and go as a disco ball, or even attach fangs and go as a vampire. Use your imagination. There are no wrongs when it comes to Halloween and masks.
We'd love to see your creativity! Share your pictures on our Facebook page and have a spook-tacular Halloween!