"We should go camping!" exclaims your friend / roommate / significant other and before you know it (before you've had your coffee) you shout, "YES! We should TOTALLY go camping!" Three clicks and a rental car later, you made plans to spend the weekend in the great outdoors.
Sleeping under the stars… or on the ground in a hot tent surrounded by bugs… isn't for everyone, but glamping certainly is. Glamping is short for "glamorous camping" and the concept inspires even the most hardened indoor cats to venture into the wilderness. The idea behind glamping is to make the experience as relaxing and restorative as a night in a hotel. Here's how.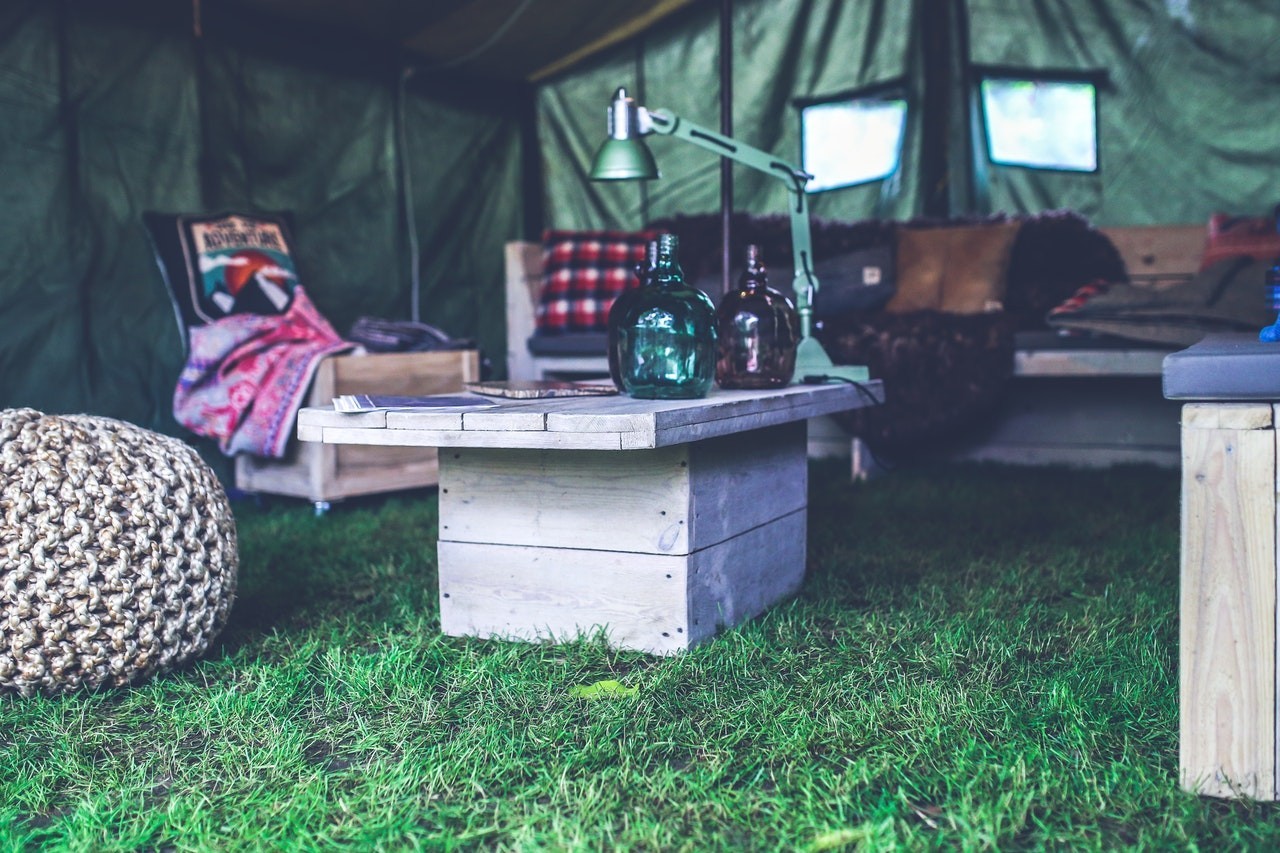 Turn Camping into 'Glamping' with the Right Gear
1. Effective "Dry" Insect Repellent
If you're not a fan of the outdoors, this is not the time to try an "all natural" bug spray made of essential oils and unicorn tears. This is the time to stock up on products like OFF! Deep Woods Dry. Bug spray may not sound like "glamping" gear, but the less time you spend tending to mosquito bites and swatting at gnats, the more time you spend enjoying the outdoors. Dry repellents last for 8 hours, aren't greasy like typical sprays, and are safe to use on your clothing and tents! Make your weekend a bug-free zone.
2. Starter Logs
It's cute that your partner wants to show you how they learned to make a fire in Scouts over 20 years ago… but on the off chance they're a little rusty, pack starter logs. Starter logs will have you enjoying perfectly toasted marshmallows in a matter of minutes. Brands like Enviro-Log are safe for the environment and burn clean without all the chemicals.
3. "Fold and Go" Propane Camping Grill
You won't want to start a bonfire every time you want to enjoy a hot meal. Make mealtime easier with an inexpensive, lightweight "fold and go" propane grill. They pack away neatly, are easy to carry in a backpack, and simple to clean and maintain. These grills are the difference between eating a granola bar for breakfast or savoring a hearty meal of bacon and eggs.
4. Reliable Cooler for the Champagne
With the right cooler or ice chest, you can keep food cold for up to 4 days! Don't limit yourself to canned food, dry goods, and water. Pack your favorite meats, cheeses, and beverages and enjoy them all at a refreshing temperature. You can't go glamping without the mimosas!
5. The Perfect Camping Pajamas
You won't feel glamorous sliding into your sleeping bag wearing the the same T-shirt you've been wearing all day, smelling of sweat and bug spray. Drift off to sleep in a silky, lightweight pajama set that will breathe through even the most humid summer nights. Check out our most popular light, breezy summer pajama sets for inspiration.
6. Air Mattress, Blankets, and Plenty of Pillows
Even the cushiest sleeping bag won't save your spine from the uneven dirt floor beneath your tent. Splurge on a battery-operated pump for an air mattress. Go ahead and bring sheets, blankets, and plenty of indoor and outdoor pillows to turn your tent into a cozy den of comfort. Don't forget LED-powered lanterns and battery-operated fans for an extra-luxurious experience.
7. Dry Shampoo and Other Creature Comforts
If your campsite is especially "rustic," you're going to need to pack basic creature comforts to live your glamping dream. If there is no running water, bring plenty of moist wipes to freshen up between deodorant applications. Wash your hair with a luxurious dry shampoo before bed, so you can hit your pillow with that "fresh blowout" feeling.
8. A Plush, Luxurious Bathrobe
Even without running water, you can feel instantly cozy in the soft, cocoon-like arms of a high-end bathrobe. Wrap up in your robe at the end of the day, while you read in your tent. Be comfortable during cool early mornings, snug in your robe, sipping coffee brewed over an open flame. The perfect bathrobe instantly elevates any outdoor experience from camping to "glamping."
9. Entertainment of Every Kind
We know, we know. You're outdoors, so you should be stargazing and hiking and frolicking in fields with fawns and singing birds… but two or three days in the woods can get a little dull. There's nothing wrong with bringing a fully charged tablet and watching a movie in the comfort of your pillow-stuffed tent. Of course, bring plenty of board games, card games, books, or magazines for non-electronic entertainment too!
10. The Hammock
Can you really call it "glamping" without a hammock? Don't forget this absolutely essential piece of glamping equipment. Hammocks are the best way to lounge outdoors. They are easily packed and easily installed between two trees at any campsite. You can even find folding hammocks that pop up independently, without screwing bolts into trees.
11. Elevated S'Mores
We have nothing against Hershey's, but if you want to take your camping experience from rustic to elegant, start with the s'mores. Instead of the standard Hershey's milk chocolate, try incorporating bars of artisan chocolate with your graham crackers and toasted marshmallows. Artisanal chocolates come in flavors like candied orange peel, spiced chili, cinnamon, and lavender. This is a simple way to add a touch of luxury to any gathering around a bonfire.
For more ideas for outdoor fun for the whole family, visit us at thepajamacompany.com/blog.