Slumber parties, overnighters or sleepovers. However you name them, they are a rite of passage that every child likely will be a part of at some point in his or her life.
These days putting together the perfect sleepover is almost an art form. It takes strategic planning, patience, and LOTS of great ideas.
So get the kids in their pajamas because we're here to help with some great tips that will help you pull off the perfect sleepover.
Food
Need we say more? The cuisine you feed the kiddos is going to make or break the event so it has to be over the top! Some tried and true snacks may include:
Popcorn – But don't just give them plain old boring kernels. Make it a fun culinary game by having various toppings and ingredients that they can make their own creations with. Some may like it sweet, while others go for salty, so have plenty of ingredients on hand like chocolate chips, candy corn, nuts (if no one has allergies), dried fruits, sprinkles, caramel, and more! The sky's the limit so set them up and let the little master chefs take over.
Pizza – Who doesn't like pizza right? And the pie building possibilities are endless. Again, let them create their masterpiece with a wide assortment of ingredients. Different meats, veggies, sauces (red & white) and cheeses will be a hit. You could even use mac & cheese if you really want to mix it up and gluten-free crusts are readily available should someone have dietary restrictions.
Cupcake decorating – You can have the cakes pre-made so your guests can get right to decorating. Just remember to do this early in the evening because you don't want the sugar to kick in at bedtime!
Healthy Snacks – Don't forget to provide healthy options as well. Yogurt parfaits, mixed fruit, and dark chocolate-covered strawberries are just a few healthy offerings you can make available. You can also replace soda with fruit-infused water and let them create their own flavors!
Fun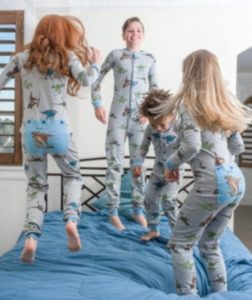 Now that everyone has a full belly, it's time for the real fun to begin! Planning activities that will keep their attention AND give them a night to remember may seem like a challenge but we've got you covered. Here are some ideas to get the party started.
Set up a photo booth – It's as simple as putting up a background (a bed sheet or painted piece of plywood works great) and letting them pose. Snap fun pictures and encourage them to let their personalities shine. You'll also have pictures the kids will cherish forever!
Karaoke – let them SING! Need we say more?
Movies – Everyone likes a good movie so make sure to pick some age-appropriate movies that everyone in attendance will enjoy.
Games
There are lots of games that the group can play together that will make everyone laugh and bond. This can be especially important if you find any of your guests feeling a little homesick.
Balloon Races – One blown up balloon for each team and a clear space (it doesn't have to be big) where the kids can move around is all you need. Divide the players into even teams and place a balloon between the knees or thighs of the first person. The goal is to run with the balloon between their legs without losing it to the other side where a team mate waits. Transfer the balloon to the next team mate without using hands who then returns to the other side. Repeat the transfers until everyone has had a go. The first team to finish wins.
Scavenger hunt – Give everyone a list of fun items to find (and keep) and send them in search of treasures. Don't worry; you don't have to give them full run of the house either. Limit the hunt to somewhere like the basement, living room, or if the weather is on your side, do it outdoors. Some kids will find more items than others so make sure that everyone gets something for their efforts at the end.
Emoji bingo – Just like the bingo we all know but with emojis! There are dozens of downloadable bingo cards online so it's a very simple game to set up and play. Have small prizes for the ones that yell BINGO!
You are now on your way to sleepover mastery! You'll receive rave reviews and who knows… you may even get the parent of the year award!