Looking for a different kind of get-together to mix it up between the summer barbecues, weddings, graduations, and birthday parties? Make plans to get your hubby and kids out of the house for the night, and get the ladies together for a good old-fashioned slumber party – adult style. Add to it a theme like 'Christmas in July,' and you've got the makings for a super fun evening that may become a tradition within your inner circle.
It's hot outside and this is no time to think about sweaters, snow, or Santa. Instead, adapt what you would traditionally do for the December holiday to something that's all about summer. We'll get you started with some awesome ideas for your party, but don't be afraid to let your creativity take over and make the sleepover all yours!

Matching Pajamas for All: In December it's a fun family tradition to all dress up in matching PJ's to celebrate the season. Why not do the same thing for girl's night? Cool cottons, Japanese satins, sassy short sets, or tropical prints are all perfect for your summer sleepover.
Frozen Hot Chocolate: The idea of a warm comforting beverage is probably the farthest thing from your mind when it's 90 degrees outside, but that doesn't mean you can't enjoy a rich creamy drink in the middle of July.  Make a batch of hot cocoa and pour it into ice trays. Then use the cubes with your favorite Irish cream, coffee liquor, or rum. If it's a free day on the calorie counter, top the drinks off with some whipped cream!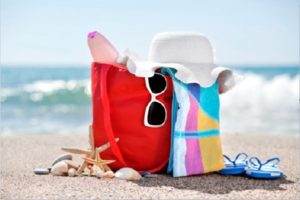 Gift Exchange: We aren't talking hats and gloves, perfume, or picture frames here… think summer. Exchange gifts that are perfect for the season you're in. A beach gift basket (sunscreen, flip flops, a good book, and a bright towel for instance), floral candles, a park or zoo pass, a pedicure kit, or seashell jewelry (we LOVE ankle bracelets) are all great ideas for your best gal pals.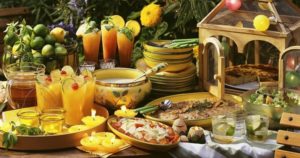 Tiki Buffet: Get yourself some thatched grass, Christmas twinkle lights, and fiesta-ware to set the mood, and then put out a spread made with light, delicious summer ingredients and refreshing drinks (think Sangria). Have a handy husband? Have him build you a tiki bar for the occasion!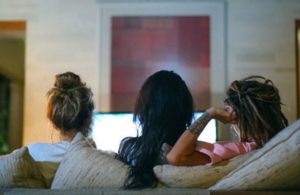 Watch a movie – NOT kid-friendly:  It's your night to get away and enjoy the company of your besties. We do holiday movie night with the family, so instead, for your Christmas in July girls night watch a movie you've wanted to see but can't because it isn't appropriate for kids.  There are lots of great ones out there so you'll have plenty of options to choose from.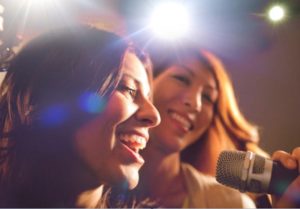 Sing Karaoke: Once the alcohol kicks in, the inhibitions tend to disappear so let loose and sing! If you've never sung karaoke, you're missing out and if you have, you know how fun it is. It's just you ladies so have fun with it and you can even sing Christmas songs!
Play Adult Games: If you're tired of Monopoly or Candy Land and want to laugh, laugh, laugh play games that are just for adults. We like Cards Against Humanity, Social Sabotage, or For The Girls. All of these options can be played with additional rules that you make up (like you must use the word "elf), so you can customize them for your Christmas in July theme.
These ideas are just the tip of the iceberg when it comes to planning your mid-summer pajama party. Let your imagination run wild because Christmas in July only comes once a year. You and the other ladies deserve to let loose!