It's the Fourth of July weekend and time to celebrate the USA! That means cookouts, picnics, parades, and parties. Great food makes for great gatherings and Independence Day gives us the opportunity to show our patriotism through the food we make. It's all about the red, white and blue and we've got 5 recipes that are a must for your celebration.
American Flag Caprese Salad with Blueberry-Balsamic Vinaigrette
A perfect starter, this Caprese salad from eatingwell.com has cherry tomatoes, mozzarella and blueberries with a sweet yet tangy dressing on the side. The American Flag presentation is a perfect way to show your patriotism!
Ingredients:
1 pound cherry tomatoes
3 (8 ounce) packages mini mozzarella balls
1 pint fresh blueberries, divided
4 ounces fresh mozzarella cheese
½ cup extra-virgin olive oil
2 tablespoons white balsamic vinegar
1 tablespoon honey
1 tablespoon minced fresh shallot
¼ teaspoon kosher salt
¼ teaspoon ground pepper
Fresh basil leaves for garnish
Trim the stem end off each tomato, so they sit flat on their cut sides.
Arranging one row of 10 tomatoes, cut-side down, on a large platter or cutting board. Arrange a row of 10 mozzarella balls directly below the tomatoes, and repeat with another row of tomatoes, another row of mozzarella balls, and another row of tomatoes. On the third row of mozzarella balls, add 5 more to extend the row to the left. Repeat with tomatoes and mozzarella balls two more times, ending with tomatoes.
Set aside 1/4 cup blueberries. Arrange the remaining blueberries in a square to the right of the shorter rows of tomatoes and mozzarella balls.
Slice mozzarella into 4 pieces, then cut each piece into quarters. Using a paring knife, cut a star from each quarter, creating 16 stars total. (Alternatively, use a small star cookie cutter.) Gently arrange the mozzarella stars on top of the blueberries.
Combine the reserved 1/4 cup blueberries, oil, vinegar, honey, shallot, salt and pepper in a blender; blend until smooth. Scatter basil leaves around the flag, if desired, and serve with the dressing on the side.
Red White and Blue Burgers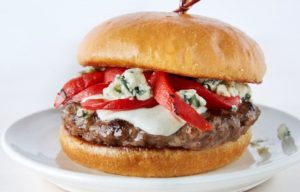 No summer holiday celebration is complete until you add the burgers! This delicious twist on the basic cheeseburger is courtesy of tablespoon.com. It's topped with mozzarella cheese, roasted red peppers, and blue cheese. Perfect for the 4th of July!
Ingredients:
2lbs ground beef
8hamburger buns
8oz fresh mozzarella cheese, sliced
2 red peppers, roasted and peeled
4oz blue cheese crumbles
Salt and pepper
For roasted red peppers, place peppers on grill over over gas burner on high for about five minutes, turning occasionally until the pepper skin is very charred. Remove peppers and place in a bowl. Cover with plastic wrap and let steam for ten minutes. Remove peppers and peel off skin. It should come off pretty easily and it's okay if some skin is left on. Slice stems off of peppers and remove seeds, then slice.
Form burgers into quarter pound rounds and make a small indent in each burger with your thumb. Season well with salt and pepper.
Grill burgers over high heat for 3-4 minutes. Flip burgers, cook for another 2 minutes or so and then add a slice of fresh mozzarella to each burger. Close the lid on the grill to help the cheese melt. Let cheese melt for a minute, then add pepper slices and blue cheese. Cook for another minute. That should leave you with about a medium burger. Cook longer if you want your burger more done.
Serve burger on a toasted bun.
Easy and Sweet Honeyed Quinoa Fruit Salad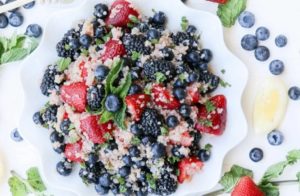 A sweet, delicious, and healthy salad is the perfect accompaniment to you celebration meal. This beautiful side dish from saladmenu.com will bring out the oooh's and aaah's from everyone at the party.
Ingredients:
½ cup cooked quinoa
½ lb strawberries
½ cup blueberries
½ cup blackberries
1 stem fresh mint
½ lemon
3 Tbsp honey
Cut strawberries into bite size pieces, mix with 1/2 cup blueberries, 1/2 cup blackberries, 1/2 cup cooked quinoa, and chopped fresh mint.
Sweet dressing: In a small bowl, whisk together juice from 1/2 lemon and 3 Tablespoons honey; mix with fruit and quinoa and serve.
Sparkling Red, White & Blue Sangria
No party is complete without a cocktail and this Sangria recipe from gimmesomeoven.com is the perfect libation to toast America with! Fresh fruit and summer flavors will also cool you off on a hot summer day.
Ingredients:
White wine: One bottle of any kind of (still, not sparkling)
Sparkling white wine: We will also add in a bottle of sparkling white wine (such as cava or champagne) just before serving to make the sangria "sparkle."
Berries: Strawberries, raspberries and blueberries
Apples: Thinly slice some crisp apples to serve as our "white." Use a small star cookie cutter or cut the apple slices into star shapes.
Liqueur: Brandy is the liqueur that is most traditionally added to sangria. But you're welcome to add cognac, orange liqueur (such as Grand Marnier, Cointreau or Triple Sec), white vermouth, or whatever sounds good.
Ice: For serving.
Mix together the base ingredients. Stir together white wine, strawberries, blueberries, raspberries and orange in a large pitcher.
Cover and refrigerate. Pop the pitcher in the refrigerator for anywhere from 1-4 hours, so that the drink can chill and all of those fruity flavors can meld.
Stir in the "sparkles." Once you're ready to serve the sangria, stir in the sparkling white wine, apples and a handful of ice.
Serve! Then pour the sangria over ice, serve and enjoy!
Berry-Patch Brownie Pizza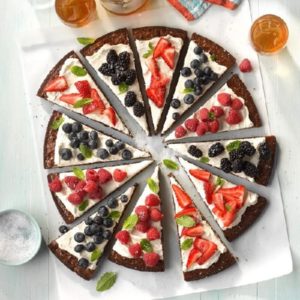 Don't forget the dessert. This patriotic pizza from tasteofhome.com is a decadent way to round out your amazing meal. Chocolate and fresh berries will create your own fireworks when your guests get a taste of it.
Ingredients
1 package fudge brownie mix (13×9-inch pan size)
1/3 cup chopped unblanched almonds
1 teaspoon almond extract
1 package (8 ounces) cream cheese, softened
1 tablespoon sugar
1 teaspoon vanilla extract
1/2 teaspoon grated lemon zest
2 cups whipped topping
Assorted fresh berries
Optional: Fresh mint leaves and coarse sugar
Preheat oven to 375°. Prepare brownie batter according to package directions for fudgelike brownies, adding almonds and almond extract. Spread into a greased 14-in. pizza pan.
Bake until a toothpick inserted in center comes out clean, 15-18 minutes. Cool completely on a wire rack.
Beat next 4 ingredients until smooth; fold in whipped topping. Spread over crust to within 1/2 in. of edges; refrigerate, loosely covered, 2 hours.
To serve, cut into 12 pieces; top with berries of choice. If desired, top with mint and sprinkle with coarse sugar.
We hope you have a wonderful 4th of July celebration. This year more than ever it will be wonderful to celebrate with family and friends!