By Ellie Badanes, The Pajama Company Editor
We love love love seeing Marc Jacobs in beautiful blackwatch plaid pajamas taking his final bow after his show at this months New York Fashion week. We love seeing pajamas as day wear and think he looked fabulous pairing them with white sneakers. He closed his Luxury line show in beautiful silk pj's.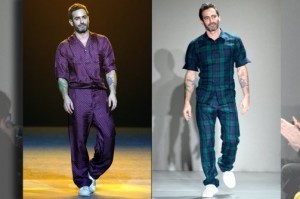 Pajamas are all about comfort, luxury and feeling wonderful. Marc asked Vogue's Andre Leon Talley "What is the most decadent thing anybody could ever do?" and answers "Get all dressed up, do their makeup, and stay at home."  Lounging at home is luxurious and comfortable. Being home doing what we love is a perfect night and of course, even better in pajamas.