Sending a child off to college for the first time is a period filled with emotion. Exciting, sad, stressful, and worried are all a part of the experience. You want them to get their education, become independent, and follow their dreams, but you still want to take care of them the best you can.
For the kids, when they are away from home, it may take a while until they realize that they no longer have the comforts of home at their fingertips. Don't fret – we've got some specialized college care package ideas that you can get together and send off that will allow you to take care of them from afar and help them adjust to their new living arrangements.

The stay warm care package. In many parts of the country, cool fall temperatures are settling in. Make sure that your student stays warm and toasty on those blustery fall days with things like:
Flannel pajamas
A new mug and hot chocolate or coffee
A mug warmer (if the dorm allows it)
Instant soup mix and instant oatmeal
A cuddly blanket
Slippers and socks
Scarves and hats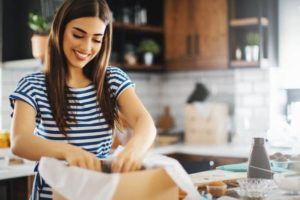 Home-away-from-home package. One of the hardest things about being away at college is making a dorm room feel like home. Help them make it more than just a place they sleep and study with the care package that includes items they can use to decorate based on their style. Consider items such as:
Cute signs with favorite quotes
Decorations from their own bedroom at home
Seasonal decor
A small chalkboard or dry erase board so that roommates or friends can leave notes on for one another
Scented candles
Homemade cookies
Self-care package. As we all know, toiletries and personal care items can be very expensive and this type of package is always appreciated. Fill it with:
Shampoo & Conditioner
Razors
Deodorant
Loofahs
Toothpaste and tooth brush
Scented lotions
Plastic flip-flops for the showers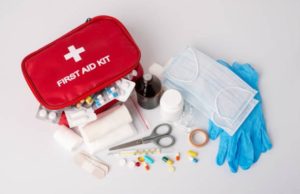 A first-aid package. One of the things young adults send it to forget about once they leave the convenience at home is making sure they have first-aid products on hand in case of a minor incident. Get them set up with a box filled with:
Band-Aids
Vitamin C and multi-vitamins
Facial tissues
Anti-biotic ointment
Hand sanitizer
Over-the-counter pain medication such as ibuprofen or acetaminophen
General cold medicines like Dayquil or cough drops
Keep clean package. Whether they have to clean their dorm room or get some laundry done, a package full of these types of products will definitely help take care of some of their needs:
A handheld vacuum
Paper towels
Anti-bacterial wipes
Air freshener
Laundry pods (which are easy for them to transport)
A mesh bag for washing delicates
A roll of quarters for doing the laundry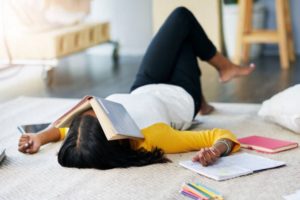 The stress-relief package. Being away from everything they have always known can be a very stressful time for students – especially those leaving for the first time. Send them a package of stress-relieving items that will help them relax and work their way into their new living surroundings:
Aromatherapy diffuser
Back or foot massager
A bonsai tree or Chia Pet (that they can nurture and take care of)
A soothing eye mask that they can heat up
A relaxing music copulation
Herbal tea
Taking care of your kids is your number one priority but now it's time for them to spread their wings and become young adults. These little boxes of goodies will show them how much you love them and help them make the transition to the next phase of their life. You got this… and they got this too!