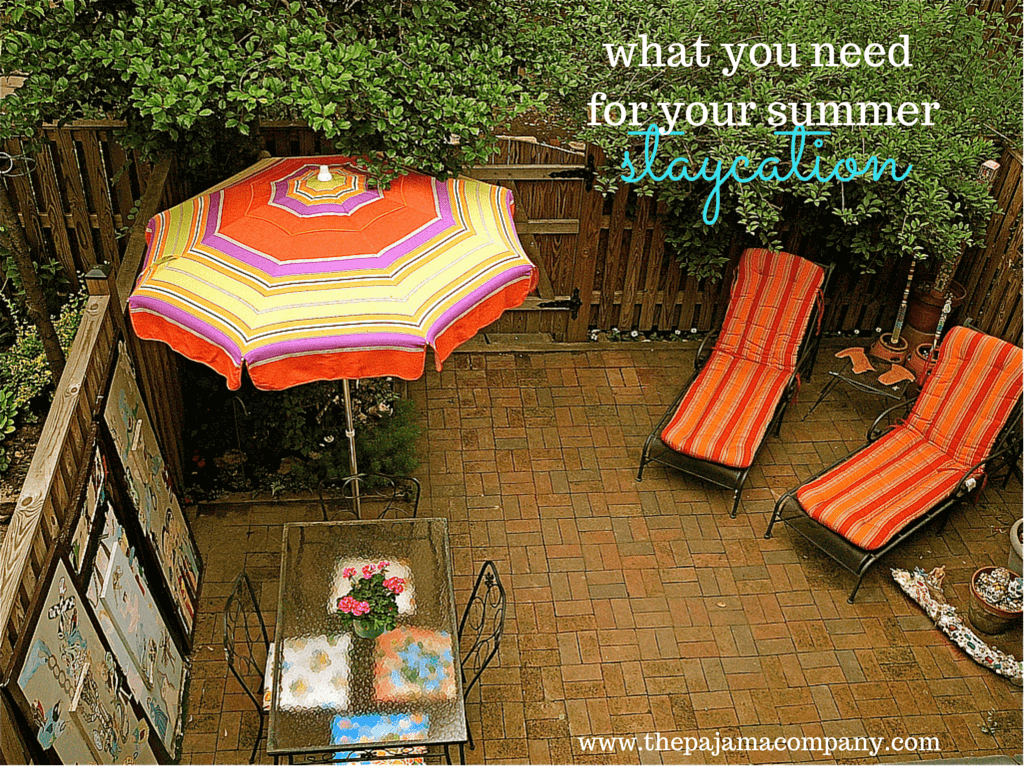 Sometimes the most relaxing kind of vacation is when you have absolutely no where to go.  No bags to pack.  No itinerary to follow. No plane to catch.  Just time to veg out and enjoy being.
Instead of jetting off to some other destination a summer staycation – a vacation at home – can be just what you need.  And with a little advance planning your staycation can be relaxing and fun and just as good as a trip away.
Here are some tips and things to cosider when planning your summer staycation:
Entertainment
Chances are you'll spend a lot of time just chilling out on your staycation, and you'll want some entertainment, so gather what you think you'll want:
– A stack of good books.
– Favorite movies.
– Craft projects.
– Games you may want to play.
Activities
Why not try out something you've always wanted to do or been meaning to do during your staycation?
– Camp in your own back yard.
– Go to the water park.
– Visit a neighboring town.
– Be a tourist in your own city.  Explore museums, the zoo, or aquarium.
– Have a neighborhood block party.
– Find a drive in movie theater or outdoor film festival.
– Host a family reunion.
– Go tubing!
Food
It's probably a good idea to plan out your meals ahead of time.  That way you won't have to spend your precious time at the grocery store or deciding what to do for dinner.
If you're into cooking, decide what you'll cook when and get everything you need. Not a cook?  Stock up on snacks and treats and make sure you have plenty of take out menus on hand.
You also may want to make reservtions ahead of time at your favorite restaurants!
The key is to make some plans ahead of time so you can enjoy your time off at home.  And remember, no cleaning or household chores are alowed!  This is time for pure relaxation and fun, just as if you were off in some other place!
Photo Credit: jenniferbeinhacker.com via Compfight cc