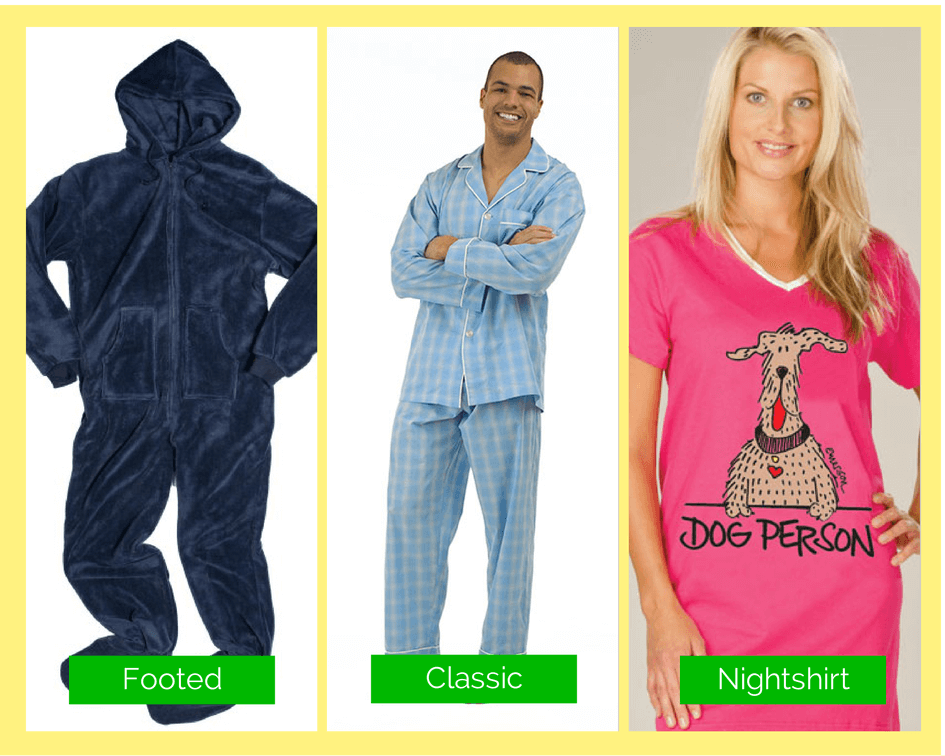 You deserve a fabulous pair of pajamas.
But in a world of so many cool pajama choices, how do you know which ones are right for you?
Has this happened to you? You head out shopping because you need some new clothes, only to come home with a bunch of stuff that just doesn't work. Maybe a shirt you love, but that does not quite go with anything else you own. Or a skirt that's really cute, but you only wear it once because it pretty uncomfortable.
If you are lucky, you realize the mistaken choices and can return them. If you're not so fortunate, you end up with a bunch of stuff in your closet that you never wear.
We don't want this to happen with your pajamas.  We want you to find just the right ones.  Think Goldilocks when she found just the right bed. The type that you'll wear over and over again and absolutely love. I'm talking about PJs that express who you are and make you feel cozy and happy when you put them on!
So, think of this your virtual "pajama fitting".  Here are 4 questions to consider before buying a new pair of pajamas:
1. What are your favorite things?
Pajamas come in SO MANY fun patterns and styles!
So what's your thing?  Are you a beach bunny who loves all things ocean and marine?  Are you a big time dog lover?  Maybe you're obsessed with all things Paris.
Are you a total hipster? Can't imagine a world without bacon?
No matter what you love or who you are, we've got you covered!
2. What's your idea of comfort?
Footie pajamas are super cozy and cover you from head to toe.  Its like being wrapped in a blanket. Nightshirts are more breezy and cool.
Sleeve length and pant length – long versus short –  also make big difference, especially if you're the type of sleeper who tosses and turns and wakes up with your pajama pants twisted around your legs.  My personal pet peeve!
The climate you live in, also comes into play, so keep this in mind as well!
3. How will you wear your pajamas?
Pajamas are for sleeping of course, but they're also for lounging, and in some cases have become a fashion statement!  So think about how you want to wear your PJs.
For example, I have different pajamas for sleeping versus hanging out.  I like to sleep covered in lots of blankets, so I prefer a tank or short sleeved top and shorts for bed.  To relax and read or watch a movie, I love a classic cotton long sleeve and pant pajama set.
4. What kind of fabrics do you like?
Cotton is cozy, breathable, and easy to care for.  Fleece and flannel are  snuggly and warm.  Jersey is stretchy and silky and feels light against your skin.  What do you find totally cozy?
The bottom line: you should feel totally happy and super comfortable when you put on your pajamas.  Just like Goldilocks, when you put on your perfect PJs, we want to hear you say, "Ahhhh…just right".