Many people find that they suffer from some sort of post-holiday blues after the excitement and fun of the season ends. The decorations have been put away for another year, its cold outside, and the days are still way too short. You know you need to snap out of it, but how?
Solution: A matching family pajama day!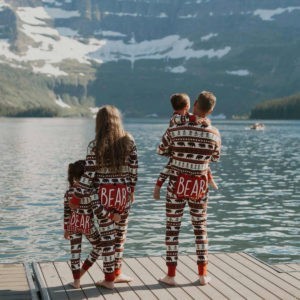 We're sure you've heard of this hot trend where the whole family (even pets) wears matching family pajamas, and if you have jumped on the bandwagon already you know what all the hoo-ha is all about. It's just plain fun and can really bring a family together. Even better you are cozy and comfy while creating lasting family memories.
We've got some great ideas for making the most of your family pajama day so take note and make some plans to try this yourself!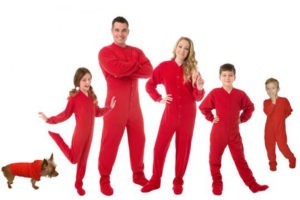 Karaoke Party
One of the hottest gifts this holiday season was the Karaoke machine. If you have a newly acquired singing device you have hours of fun right in your own home. Even if you don't have one – no worries. There are several apps that like Smule or SingSnap that provide access to thousands of songs and can be downloaded for little or no cost. Then, gather together and sing your hearts out. You'll have a great time and who knows – you may even find you have the next great singing star right under your own roof!
Set up Camp
Just because it's cold outside, doesn't mean you can't go camping. You just have to improvise. First, clear a space in your home and either pitch a tent or create a makeshift tent with blankets. Then bring on the camping fun. If you haven't already, put on your matching family pajamas and roast hotdogs (and marshmallows for S'mores) in the fireplace or over the stove, tell scary ghost stories, and play campfire games like charades. An awesome added touch is adding 'stars' to your campground. Hang some twinkle lights from the ceiling or drape them over the tent and let your imagination take over!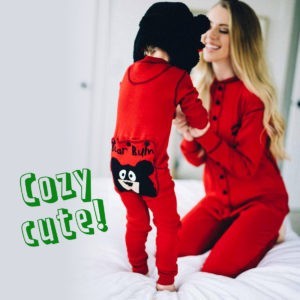 Photo Op
Matching family pajama day is the perfect time to get some great group photos that are totally Instagram worthy! You can pose in so many different ways and really let the goofiness come out. The fun can be two-fold as you might just take the picture for your holiday card this year!
Game Day
With technology taking over our lives, we often forget about days-gone-by and family game time. Why not resurrect the past and bring out those old board games or create makeshift games of your own like Pictionary. You'll bond with the brood and taking time away from your phones and computers can be an invigorating experience.
Get Crafty
You can spend the whole day in your matching family pajamas having a craft day. If you need inspiration, there are lots of holidays coming up that you can make decorations for like Valentine's Day, St. Patrick's Day and Easter. Another great theme to lift you out of the winter doldrums is spring! Make crafty flowers, butterflies, baby animals, and more. A quick Pinterest search will yield tons of ideas!
Now that we've got your wheels spinning, you'll probably have some other great ideas of your own. The most important thing is that you are all together as a family and enjoying one another's company.
We'd love to see how you all look in your family pajamas. Feel free to post your pictures here or on our Facebook page. We can't wait to see you!