If the greatest gift is love, get ready to shower Dad in oodles of it this Father's Day. Truth is, there's nothing quite as simple and rewarding as having a meaningful Father's Day celebration at home. Get ready to kick up your feet, lounge in your pajamas and enjoy fun activities that are perfect for family bonding and creating lifelong memories. Best part? They don't cost a thing!
Father's Day provides the opportunity to put the focus on Dad and make him feel like the king of the castle, all while gifting him quality time with the ones he loves. Can't put a price on that!
You don't have to break the bank to show Dad how much you love him. In fact, most of the following activities are all free! And if you're looking for inexpensive Father's Day gifts to show Dad how much you care, browse our collection of fun Father's Day t-shirts!
If you've been wondering how to spend Father's Day this year, read on for our tips for planning a memorable and meaningful Father's Day celebration at home!
Father's Day Activities At Home
First of all, you want to make sure Dad knows how important he is to your family, right? Then let's set the stage for the ultimate day of fun this Father's Day. The most important thing is to show Dad how much he means to you, and what better way to do that than give the gift of quality time?
Spend Time Together — No Distractions Allowed
The first thing on your list for celebrating Father's Day at home is to put the focus on the man of the house. Eliminate any distractions that will take the spotlight off of Dad, and really set up the atmosphere to be conducive to bonding and spending quality time together.
Tuck away the laptops and cellphones, and don't even think about turning on the TV until after you've enjoyed all of your fun Father's Day activities.
Father's Day Brunch at Home
Instead of shuffling through a crowded restaurant, make Dad the breakfast of champions: a delicious and bountiful home cooked Father's Day brunch. Eggs benedict his favorite? Be sure to pick up special items from the grocery store ahead of time. If you've got several kids in the family, let each one cook their own special dish for Dad. This is a great way to include the kids and make Dad feel special.
While you're around the table, it's time to give Dad his Father's Day gift. Still looking for the perfect one? Show him he's the best Dad ever with a Father's Day T-shirt!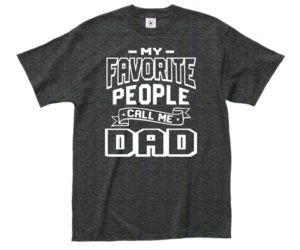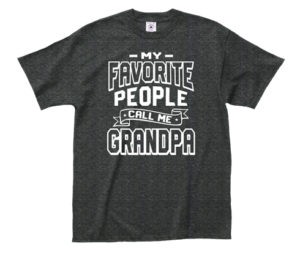 Have a Local Expedition
Instead of over-spending to visit a theme park or busy place that'll take away from your quality time, have a local expedition! Take the bikes out for a neighborhood ride, head out back and throw the football. Local park nearby? Cart your bats and have a round of softball. A local outing is a free Father's Day activity that's easy to plan and most of all–fun! If you've got a big family, let Grandpa and Dad be team captains and have a schoolyard draw.
Make Time For His Favorite Things
Let's face it, Dad is busy all year keeping up with the daily grind. This Father's Day, let him savor some precious down time. This could involve watching a football game, reading a magazine or playing fantasy football. Maybe he loves to lounge in his favorite robe and read the paper with a cup of coffee in the morning? While Father's Day is all about Dad and family bonding, let him have some quiet time to enjoy his favorite relaxing activities. To really get him in the chill zone, make sure he's set up with the coziest lounging pajamas ever!
Work On A Project Together
Think about Dad's favorite hobbies: Does he love gardening? Then get the gloves on and help him water the garden or add a new plant. Is he a golfer? Bring the golf clubs out back and practice your swing together. Or, you can try something new together like building a birdhouse or painting pictures to hang in the garage or man room.
Order Pizza or Have a Backyard Picnic
Does Dad love a classic grilled burger? Then fire up the grill. Maybe he cares more about spending time together and not cooking? Sounds like delivery is the best option. Order his favorite pizza or takeout, that way you can get back to all these fun Father's Day activities. To turn lunch into a fun and free activity, pack up some sandwiches and snacks and have a picnic in the backyard. This is a great way of keeping the family bonding active and ongoing throughout the day.
Game Night
After a fulfilling day of Father's Day activities, it's time to unwind and enjoy some mellow and fun activities. Is your Dad a ringer at Monopoly? Maybe you guys bond over Jenga or cards? Either way, a game night is a fun and interactive way to do something Dad enjoys that includes the whole family. No sore losers, because dessert's on the way!
Make Him His Favorite Dessert
Does Dad have a sweet tooth? Then Father's Day is the perfect chance to bake him his favorite pie or fill up the house with the sweet scent of freshly baked cookies. Alternatively, if his favorite dessert is frozen yogurt, put on your pajamas and head out for ice cream. Or, make banana splits at home!
Stargazing
The celebration doesn't end when the sun goes down, in fact it's just getting started! Stargazing Is one of the creative things to do for Father's Day that is interactive, free, fun and educational. Print out some star maps and take turns finding your favorite stars and constellations.
Have the Best Father's Day Ever!
As you can see, there's no shortage of fun and free things to do at home for Father's Day. The most important thing is to spend quality time together. Whether lounging in your pajamas and playing cards, or enjoying an exciting softball game or playing catch in the backyard, we hope these Father's Day activities help you bond and create unforgettable memories that'll last a lifetime.
After all, Father's Day is truly about celebrating the man whose unconditional love deserves more than one day of recognition, but hey–he'll take it! Happy Father's Day!
Don't forget to grab your Dad the perfect Father's Day gift to show him how much he means to you. Browse our collection of Father's Day pajamas and T-shirts!