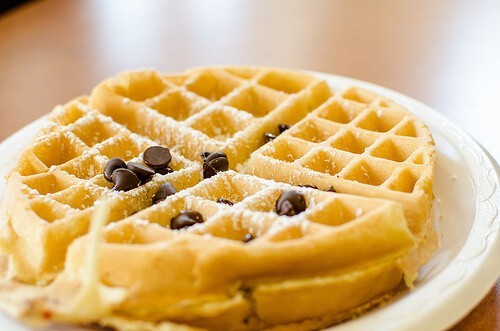 "All happiness depends on a leisurely breakfast." – John Gunther
What's a lazy PJ-clad Saturday or Sunday morning without a delicious and leisurely breakfast, right?
Cue up the coffee pot and heat up the syrup…today we're talking waffles!  Waffles are so tasty with their crisp outside and chewy inside and nooks and crannies filled with syrup…fruit…butter…chocolate…whatever you love!  Is your mouth watering yet?
We've rounded up some awesome recipes to share with you!
Banana Bread Waffles from Mother Thyme
Belgian Cookie Dough Waffles from Dine & Dish
Dark Chocolate Waffles from I Bake He Shoots
Maple Bacon Waffles from Ashlee Marie
Churro Waffles from Chica Chocolatina
Vanilla Bean Blueberry Waffles by Something Swanky
Craving savory?  Joy the Baker has taken waffles to the next level with her Mashed Potato, Cheddar and Chive Waffles…perfect for a pajama movie night! Yum…
What's your favorite way to eat waffles?  Tell us all about it in the comments below.