Halloween is so much more than carving pumpkins, costumes, and trick or treating. Since there is nothing better than family time, why not plan an entire weekend to get everyone in the spirit? We have some spooktacular ideas that are sure to keep all the ghouls and goblins entertained and bring a wickedly fun twist to your Halloween activities!
Brew a Batch of Slime
Could there be a better time of year to make ooey-gooey slime? We think not. Slime making is easy, fun, and has all kinds of creative possibilities! You can make slime any color and add extras like plastic spiders, googly eyes, or glitter for a special extra touch. Here's a simple recipe we found that both adults and kids will love playing with!
Get Wrapped Up in Mummy Bowling
Wrap Plastic bowling pins (available at almost any store that sells kids toys) in toilet paper, glue some eyes on, line them up, and voila- you have yourself a mummy bowling alley. You can use a rubber ball or if you want to make it extra fun, use a small pumpkin! Play as individuals or teams and have prizes for the winners!
Make Frightfully Fun Halloween Recipes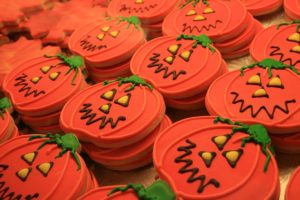 A quick search for "Halloween Recipes" will produce 1000's of fun snacks and treats that your whole family can sink their teeth into.  A great idea would be to give each person a recipe to make and let the creative juices flow. Not only will you have some tasty tidbits for your Halloween celebration, but the kids will also learn a little about cooking and how much fun it can be!
Craft up Some Decorations
Halloween crafts are another project with endless options. From painting pumpkins to festive paper lanterns you'll make memories and have hours of enjoyment being creative! The best part is that after Halloween is over, you can put them away and bring them out to display for years to come!
Bob for Apples
Bobbing for apples really is a Halloween tradition! People have been doing it forever and it's one of those activities that get passed down from generation to generation. Ideally you want to play this fun game outside if the weather cooperates but if it has to be done inside, make sure to put some towels down to avoid slipping on wet floors.
Have a Scary (or scary-ish) Movie Marathon


Have the whole family put on their pajamas, dim the lights, grab all those tasty treats you just made, and settle in for a night of spooky, scary fun. There are tons of age-appropriate options so make sure your playlist is suitable for your audience. We don't want the little ones too scared or they'll be up all night!
Tell scary ghost stories
Another fun pajama activity! Light a fire in the fireplace or fill the room with candles and turn off the lights. You can even hand out flashlights to use during storytelling. Take turns coming up with the scariest stories or talk about actual scary folklore from your neck of the woods.
Do the Time Warp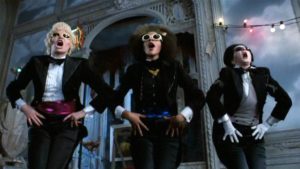 The Rocky Horror Picture Show is a cult classic. One of the most iconic parts of the film is the classic 'Time Warp' song with dance. Since the film is not suitable for all ages, download just that part of the movie to play on your TV. You'll have a blast learning the dance and watching everyone get their moves on. Plus… you'll get a little exercise to work off all the treats!
We'd love to hear your ideas for a fun Halloween weekend too! Share them in the comments or visit our Facebook page and show us your pictures of how you celebrate the scariest night of the year!