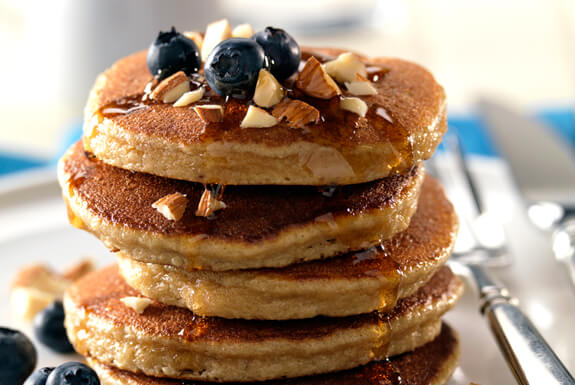 Don't you just love Saturday mornings? There's nothing better than hanging out with family or friends on a Saturday morning and eating some delicious pancakes!  In your pajamas, of course!
When I was a kid I loved weekends when we would lounge around and my Mom would make pancakes and bacon on the griddle or my Dad would fire up his waffle iron.
Traditions like this are really fun.  They give you something to look forward to during the week and can help you feel more connected with your family.  Its a nice feeling to know that no matter how busy your week is, if nothing else, you're all going to gather around the table on Saturday morning and have a meal together.
If you're single or an empty-nester and don't necessarily have family in the house, you can totally still enjoy Pancake Saturday with people that to you love.  Offer a standing invitation for friends, family, and neighbors to come over and join you for breakfast on Saturday mornings. Just tell them to stay in their pajamas, grab the mimosas, and head on over!
Here are some yummy pancake recipes to get you inspired to start your Saturday morning tradition!
We've shared it before, but here is a  favorite Classic Buttermilk Pancake recipe again.
Red Velvet Pancakes with coconut syrup and blueberries.  Yum!
Oooooh, Pumpkin Pancakes.
Oatmeal Cinnamon Roll Pancakes
Oreo Cookie Pancakes. Oh my!
Milk Chocolate Chip Buttermilk Pancakes
Blueberry-Flax Pancakes. Less guilt? Maybe.
Pancake Lasagna. This is on my must-try list!
So tell us, do you have any special traditions with family or friends?  Share with us in the comments below!