By Cat Fish, The Pajama Company Director of Outreach
Everybody knows that the Big Apple is one of the most fashionable cities in the world. We at The Pajama Company have noticed that one of the of the hottest trends for summer in NYC is pajama-inspired pants!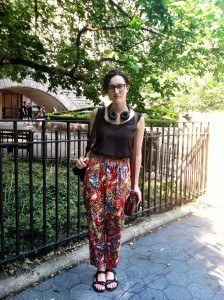 These spunky trousers are loose and comfortable in the summer heat. They look casual and chic paired with a simple tank or cotton t-shirt. We met Tessa Peach (pictured), who was rockin' her fun and colorful pants while spending the day exploring Central Park.
Check out The Pajama Company's Just PJ Pants section for an array of bright patterned pajama pants!