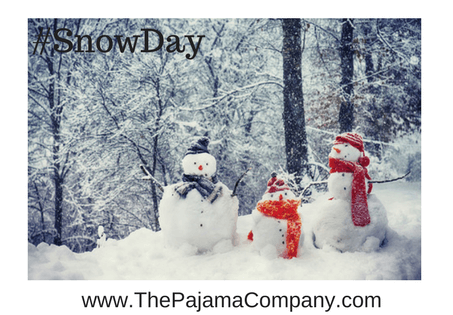 By Ellie Badanes
Here in CT, we are preparing for #Blizzard2017 now heading our way. We know that means one thing, a Snow Day! A Snow Day in March is unexpected and of course happy for every child tonight knowing tomorrow is a day to play and relax. For kids of all ages there is a tinge of excitement in anticipation of the Winter Wonderland predicted to greet us in the morning hours. We know what we will be wearing for our Snow Day, pajamas of course, but what will we be watching? Here are a few ideas:
Back to the Future
Who doesn't love this classic movie in which Michael J. Fox goes back in time in his DeLorean time machine? (Hellloooo, McFly!) It's a feel good movie and an all-time favorite rainy day go-to. There are actually two sequels, but the first one is really the best.
Home Alone
A classic wintertime movie that charms and entertains every single time. Who doesn't need a little "Christmas" even if it's March?
Happy Feet
To get into the spirit of the day, what's better than heading to Antartica for some penguin tap dancing?
Toy Story
If you don't know Toy Story, it's a touching family movie about a boy named Andy and his toys, that's well loved across generations. Action figure Buzz Lightyear and Woody the cowboy steal the show, in addition to Mr. Potato Head! What makes us watch this movie over and over? It's a sweet story and even after many years, the animation is still really cool. And like Back to the Future, it's a trilogy, so a perfect choice for a rainy Saturday movie marathon!
Wedding Crashers
Vince Vaughn and Owen Wilson play two womanizing friends who regularly "crash" weddings to pick up girls. All is well and good until one of them actually falls for one of their conquests (played by Rachel McAdams). This movie is totally entertaining. There are so many funny lines which makes it one you have to watch again!
Chef
This is a great story about a chef (played by Jon Favreau) who looses his job in a restaurant and decides to start up his own food truck, and bonds with his son along the way.  Super cast and a totally charming movie. (On Netflix)
Notting Hill
You've probably seen it more than once, but Notting Hill is one of those movies to watch again and again. A British romantic comedy about a bookseller (Hugh Grant) who falls in love with a famous American actress (Julia Roberts). Funny and sweet. (On Netflix)
Hector and the Search for Happiness
A charming story about Hector, a psychiatrist who sets out on a journey to find out what really makes people happy. Lighthearted and fun, and will make you think!  Watch the trailer here. (On Netflix)
You've Got Mail
Tom Hanks and Meg Ryan totally make this movie, which takes place back in the AOL days. We love Meg Ryan's adorable pajama scenes, and of course, can't beat the happy ending.
Something's Gotta Give
Diane Keaton, Jack Nicholson and Amanda Peet? Plus, scenes from a gorgeous East Hampton beach house and Paris. Need we say more? This love story will make you laugh, and you'll love the sweet ending.
Uncle Buck
John Candy, enough said.
Legally Blonde
Elle Woods, played by Reese Witherspoon, breaks up with her boyfriend and decides to follow him to law school and get him back. Yes, totally silly, but equally charming. (On Netflix)
What are your favorite Snow Day movies? Share with us in the comments below!