Raise your hand if you need a long weekend! I don't know about you guys, but we're totally pooped out from that gym membership we're sporadically using now that it's February. President's Day is right around in the corner just in time for a little R&R in your pajamas. Even better? Netflix just added a slew of movies to its collection, so we're going to give you ten excuses to stay in bed this weekend.
Ready to hibernate for the winter? Check out the latest prints from PJ Salvage, pictured above.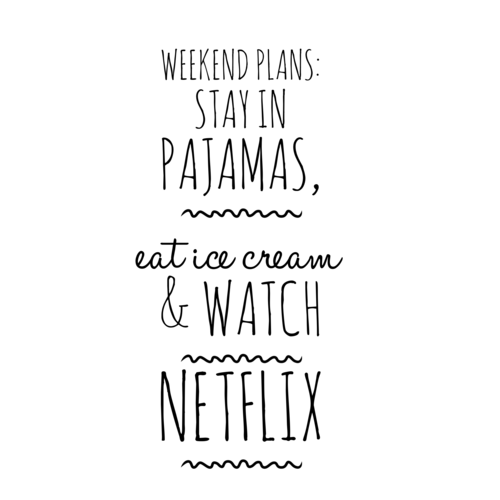 10 Best Movies Now Available on Netflix
1. The Truman Show (1998)
Many critics believe that this hilarious — albeit creepy — take on our society's obsession with entertainment, predicted America's reality TV craze. The Truman Show follows insurance salesman Truman Burbank (Jim Carey)  through his day-to-day, though he doesn't have any idea that his entire life is a scripted television show. This movie is absolutely worth a watch 20-years later!
2. A Futile and Stupid Gesture (2018)
A 'Netflix original' movie, A Futile and Stupid Gesture is a biographical comedy that follows the rise of the National Lampoon media empire overseen by comedy writer Doug Kenney, played by SNL alumnus Will Forte. If you're a fan of National Lampoon's Christmas Vacation and the classic comedy Caddyshack, you might enjoy watching this hilarious origin story. Forte doesn't disappoint!
3. Caddyshack (1980)
Speaking of National Lampoon, the classic comedy Caddyshack has been available to stream on Netflix since January 1. Watch a hilarious young Bill Murray and Chevy Chase in this movie that follows the ups and downs of the caddies at an exclusive golf course. At the time of its release, no other film had pushed the boundaries of crude humor like Caddyshack. Gut-busting laughter, guaranteed.
4. Breakfast at Tiffany's (1961)
Can you think of a better way to spend a long weekend than with the fabulous Holly Golightly? If you haven't seen this beautiful film, now's your chance. Hepburn plays a young girl who is working as a high-class escort when she meets a young man as he's moving into her apartment building. He is having an affair with an older wealthy woman in order to support his "craft." These two gold-diggers are falling for each other, but will either give up their aspirations to be together?
5. The Godfather Trilogy (1972, 1974, 1990)
Let's forget that The Godfather Part III ever happened (yikes!) and focus on Part I and Part II. Widely regarded as two of the greatest films of all time, Francis Ford Coppola's lengthy films are the perfect binge for a long weekend. Curl up on the couch with a glass of wine and watch Michael Corleone's infamous rise to power.
6. Marie Antoinette (2006)
This visually stunning film, written and directed by Sofia Coppola (yes, daughter of that Coppola — see above) is a historical drama following the life of Queen Marie Antoinette in the years leading up to the French Revolution. The film spares no expense at depicting the over-the-top lifestyle of the "Doomed Queen" in the Palace of Versailles. Put on your finest pajamas and settle in with a box of pastries, a glass of champagne, and enjoy the ride while it lasts.
7. Love Actually (2003)
Missing the Christmas festivities? Continue to celebrate winter with a cup of hot chocolate and this classic holiday romance. Love Actually follows the lives of eight very different couples struggling to maintain their love lives in various loosely interrelated tales all set during the most stressful time of year — the month before Christmas. This is a fuzzy slippers kind of chick flick.
8. The Shawshank Redemption (1994)
Easily one of the greatest films of all time, The Shawshank Redemption is based on the Stephen King 1982 novella Rita Hayworth and Shawshank Redemption. The movie follows Andy Dufresne, a banker who is sentenced to life in Shawshank State Penitentiary for the murder of his wife and her lover, despite his claims of innocence. Dufresne befriends a fellow prisoner Ellis "Red" Redding (Morgan Freeman) and focuses on the themes of hope, perseverance, and friendship. Have tissues on hand for this one.
9. Wedding Crashers
After you watch Shawshank Redemption, you may need a mood boost. Look no further than Wedding Crashers, a Vince Vaughn and Owen Wilson classic that solidified Isla Fisher's reputation as a comedic powerhouse — she really does steal the show. This is a great flick to watch with friends, especially as wedding season approaches, in your favorite pajama pants.
10. Comedians in Cars Getting Coffee (2018,
Series
)
Okay, so this isn't a movie but this "Netflix original" series is hosted by Jerry Seinfeld, the show's creator, is definitely worth a watch. While the content is now exclusively available on Netflix, It was a popular web series for 9 seasons before it found its way to Netflix. The show is exactly what it sounds like: Jerry Seinfeld picks up a famous comedian / comedic actor in a classic car, they go for coffee, and he interviews them about their career.
For more ideas for how to unwind in your pajamas this winter, visit The Pajama Company at our blog, thepajamacompany.com/blog.