Go sports! Do the thing! Make the points! Are you ready to watch that football team that wins a lot play that other team from somewhere else on Sunday? Or is it Saturday? If football isn't your jam, we feel you. Plenty of people tune in to the Super Bowl (on Sunday) for the big-budget commercials alone.
When you host a Super Bowl party, you inevitably have a mixed crowd. Some partygoers will be avid football fans, others might support a team that didn't make it, and some people will want to eat bean dip but don't care about the main event. If you think your guests will be mostly the latter, keep it casual. Throw on your favorite pair of pajama pants and encourage your guests to do the same. Get comfortable and settle in for a relaxed day of games — it'll give you something to do until until the next commercial!
5 Games to Play in Your PJs During the Super Bowl
1. Super Bowl Trivia
A game day classic, use these printable Super Bowl trivia sheets and have everyone put their Super Bowl knowledge to the test. The game is multiple choice, so even the football novice can play — and has a chance to win!
2. Super Bowl Cook Off
Tell your guests to bring a dish to the party and declare a "cook off." Leave index cards, pens, and an empty container — like a vase or bowl — next to the food display. Have your guests vote for their favorite dish and drop their selection in the bowl. At the end of the night, count the votes and the winner gets a prize.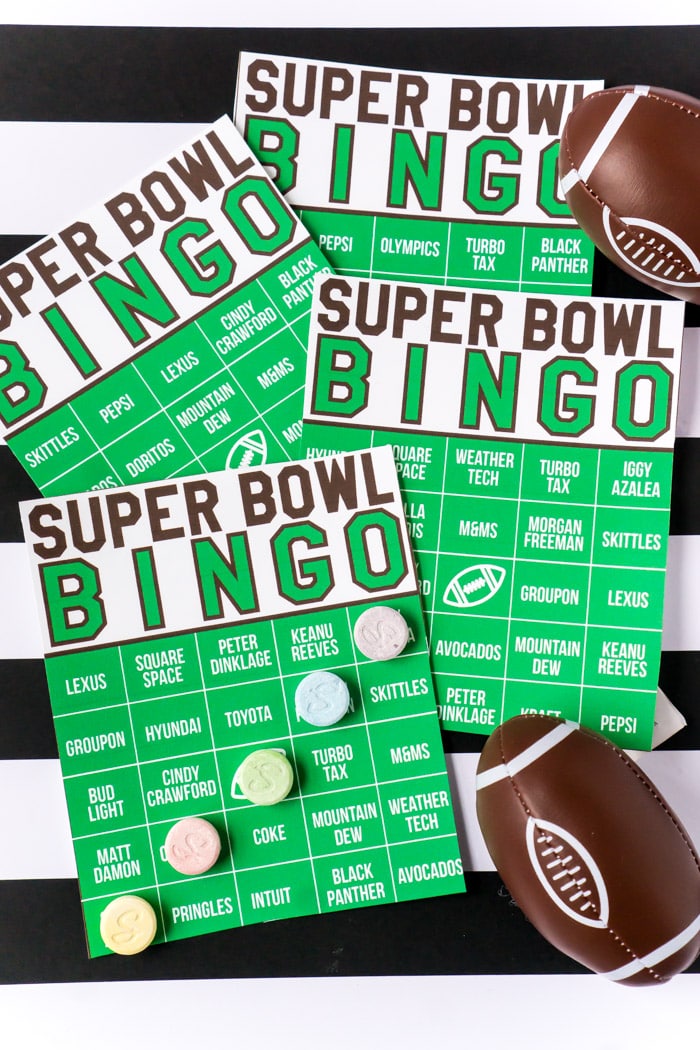 3. Commercial Bingo
Since many guests will be watching for the commercials as much as the game, try this super fun printable Commercial Bingo cards. The cards include popular words, brands, and celebrities that appear annually such as Lexus, Cindy Crawford, and TurboTax. Your guests will think it's a riot!
4. Super Bowl Prop Pool
Another game day favorite, print out the these questionnaires for a Super Bowl prop pool. The sheet features questions of various levels and point values and many questions are over/under or yes/no so the football newbs can participate too!
5. Don't Say It or "Not It"
For a simple game of 'Don't Say It,' you pick a word — like football, wings, or wow — and whoever says the word gets a point on a tally sheet (you can make it fun by hanging a large post board on the wall with everyone's name). Whoever has the fewest points at the end wins a prize!
Another variation is 'Not It.' This game involves actually paying attention to the game day announcers, so it's a fun way to get people who aren't interested in football into the game. Whenever an announcer says a player or team brought their "A-game," or refers to a running back as a "workhorse," or calls a player a "real athlete" — put your finger on your nose. The last person to do so gets a point. Whoever has no — or the fewest points — wins a prize.
Super Bowl 'Game Day' Prize Ideas
What's a game without prizes? For games like "Don't Say It" or "Not It," there might be multiple winners. For these games get a handful of inexpensive prizes: beer koozies, keychains, bottle openers, fun socks, beer glasses. For more involved "winner takes all" games like Bingo or Trivia, get a larger prize: a football, Super Bowl T-shirt, craft beer, a plush bathrobe, luxe pajama pants, or silly slippers. For the cookoff consider a funny apron, a nice spatula, hot sauce, or a nice seasoning set.
For more prize ideas, game day recipes, and ideas for fun activities, visit The Pajama Company at our blog, thepajamacompany.com/blog.