Summer is in full swing and with the rising temps, sunny blue skies, sandy toes and watercolor sunsets we welcome fun outings, social events and lazy beach days. Summertime is a chance to let loose, relax and unwind in the glory of eternal sunshine. That's why it's the perfect time of year to bring out the lightweight linen, soft cotton and casual summer accessories. Simply your routine with these easy to wear, casual summer essentials.
If you're ready to build the ultimate summer wardrobe, read on for our must-have items that'll keep you cool, stylish and ultra-relaxed all summer long.
A Stylish Sun Hat
With the sun out in all its glory, ultraviolet rays are a real threat to our skin. That's why you need a go-to sunhat to throw in your bag wherever your summer takes you. Whether you're lounging poolside with a cold refreshment, hiking a new trail or soaking up the sun at the beach, a sunhat is a summer essential. Not only do summer hats keep the sun out of your face, but they add a stylish flare to your wardrobe. For luxe vibes, choose a wide brimmed straw hat. For a sharp, tailored look, throw on a Panama hat and wrap your favorite scarf around it to personalize your look.
Your Favorite Summer Nightshirt
The key to building a summer wardrobe is to pick versatile pieces that you can wear in multiple ways. Hello, summernightshirt! Wear a neutral or pastel sleeveless or collared nightshirt as is, or tie a woven belt around the waist to accentuate your silhouette. We love nightshirts because you have the option to dress them up or down. Pair your favorite summer nightshirt with faded jeans and strappy sandals for a casual summer outfit, or dress it up with espadrilles and statement jewelry for those warm summer nights.
A summer nightshirt is great for lounging around at home during a summer staycation, or packing for a summer vacation in the tropics. Either way, the versatility and breezy aesthetic of nightshirts make them one of our top summer wardrobe essentials.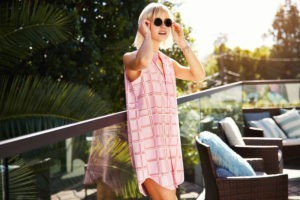 We absolutely love this luxe sleeveless nightshirt from The Cat's Pajamas!
A Silky Summer Robe
Lazy summer days call for lots of R&R, self-care and time spent lounging in a hammock with your favorite iced cold drink. Enjoy long summer afternoons cozied up at home catching up on your summer reading list, reading in a shaded nook, or sipping cucumber water in a silky smooth summer robe.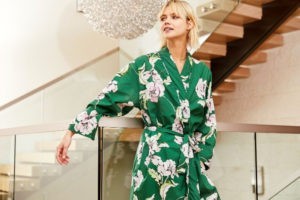 Our Recipe for Ultimate Summer Lounging: 
Make your favorite summer drink

Slip into your favorite

silky summer robe. 

Camp out in your favorite spot. It could be the couch, or under a shaded oak tree where you can hear birds chirping and enjoy the quiet solitude of lazy summer afternoons. 
Flip Flops
Can you even call it Summer without flip flops? Wherever your feet take you this summer, (which is sure to be plenty of fun places!) flip flops are an essential casual summer staple. Easily slip in and out of your flops as you cannonball into a river, enjoy a day at a lush spa, or throw the football in the backyard. Best thing about flops? You can wear them every single day and no one will bat an eye because they're probably wearing flip flops, too!
Breezy Summer Pajamas
After those long summer days out in the sun, you'll want to slip into the most comfy, breezy and lightweight PJs ever. Our summer shorty pajama sets and rompers are perfect for movie nights, pajama parties, baking cupcakes, sipping on tea and basking in the ambiance of resplendent summer nights. Did we mention how cute and fun these patterns are? Watermelon, anyone?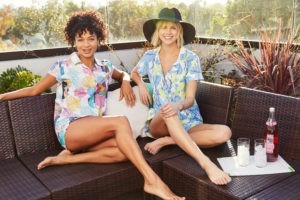 A Classic Cover Up 
Summer is all about easy, effortless outfits that look chic and relaxed. Why waste time picking out what to wear when there's so much fun to be had outside? Well, you can never go wrong with a classic cover up. Throw it over a swimsuit, pair it with your favorite accessories or dress it up. Choose bright florals and summer colors to accentuate the sunniest time of year. Lightweight materials like cotton are super soft, comfortable and perfect for warmer temps. Wherever you go in your cover up, you're bringing classic and casual style with you.
Our Summer Pick: The ultra soft, lightweight Bora Bora Sleeveless Nightshirt.
Summer Sunnies 
Because summer isn't quite the same without your favorite pair of sunglasses, right? Sunglasses are the perfect summer accessory and come in a variety of styles to allow you to add a unique flare to your look. An oversized black pair gives a classic, Audrey Hepburn look. Or, get flirty with colors and patterns like leopard, tortoiseshell or hot pink.
And that wraps up our summer style roundup! Summertime is all about savoring the longest days of the year under the warmth of the sun. Soak up the vibrant sights, scents and events this summer because no matter where your summer takes you, you're going in style with these essentials!
Ready for some summer fun? Here's your list for the best ways to celebrate summer this year!