With the holiday gift-giving season in full swing, we all have that person or people in our lives, that are either impossible to shop for, already have everything, or we're just not finding something that screams "this is it". Sure you can go grab a gift card, a bottle of wine, or a pre-made gift box and give those as gifts. That would be quick and easy right?
We have a better idea. Make unique gift baskets for everyone on your list this year. They are completely customizable, look beautiful, and you have complete control of their contents. Plus, we think you might have some fun making them too!
We'll get your creative juices flowing with 10 basket ideas we plan on making this year.
Bloody Mary Basket. The vodka is the centerpiece of this basket so make sure you get a nice bottle. Add a bottle of Bloody Mary mix, hot sauce, seasoned salt, an array of pickled condiments, and some snack mix to round your basket out.  As a nice Added Touch, you could add personalized glasses with the recipient's name.
Spa Day Basket. There are no rules for this one. Fill it with scented body washes, scrubs or sugars, bath accessories, facial treatments, and even a pair of warm slippers to tie it all together. A few candles, a fragrant diffuser, and soft music CD makes this gift even more special.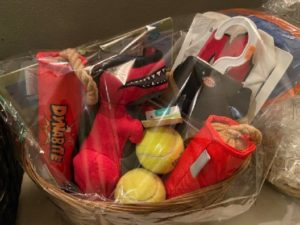 Pet Lovers Basket. Sometimes, when you give the gift to the special fur baby in someone's life, you're doing much more than giving the human parent something. You can fill these baskets with so many goodies like dog treats, toys, pet outfits, or even a new dish for food or water. Top it off with a beautiful frame for the human, so that they can proudly display their favorite picture of their beloved companion.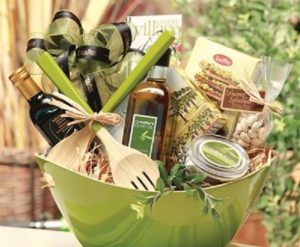 Salad Addict Gift Basket. You probably don't want to add fresh produce to this gift, but you can give them wonderful additions to the standard salad. Think nuts, dried berries, tortilla strips, croutons, artichoke hearts, olive oils, a bottle of fancy vinegar, and don't forget the gourmet dressings (make sure you don't choose ones that need refrigeration). Instead of a basket, use a large salad bowl to hold everything and finish it off with serving utensils.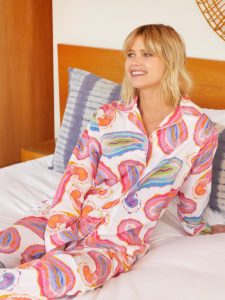 The Cuddle Up Basket. This is for the person who either needs to relax or loves spending a peaceful day at home. Start with a set of pajamas, warm socks, a cozy blanket, and then include herb tea and honey or some trendy hot chocolate bombs. If you know what kind of movies they like, include a couple of Blu-ray discs.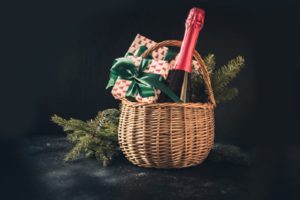 The Wine Drinkers Basket. Yep, we said a bottle of wine was quick and easy but an entire wine basket is a whole different thing. Choose good wines, and add wine glasses, wine glass charms, coasters, and chocolates. A wonderful added touch would be a gift certificate to a local cheese shop. Shopping for a beer lover instead? Swap out the wine items for craft brews, beer mugs, beef jerky, and nuts.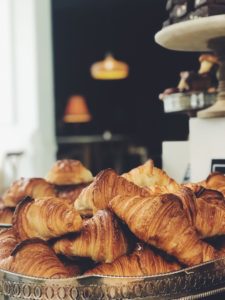 The Breakfast Basket. The most important meal of the day has no rules. Pancake mix, maple syrup, bacon (make sure they can refrigerate right away), jams, breakfast biscuits, granola bars, coffee, tea, homemade sweet bread/muffins, or anything else you think they will enjoy can be added to this thoughtful gift. If you want to add some non-food items, consider coffee mugs or a gift certificate to a local restaurant for champagne brunch.
The Pickle Fanatic Basket. There are hundreds of different kinds of pickles out there. If you know someone crazy for pickles, this is a wonderful treat. You can get hot & spicy ones, sweet ones, sour ones, big pickles, and small pickles. You can even find things like pickle-flavored candy, chips, vodka, and nuts. A quick internet search of 'pickle flavored' will shock you. If you know someone who lives for hot sauce, you could do that instead.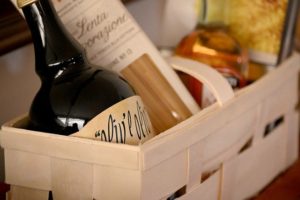 The Pasta Chef  Basket. Fill it with unique kinds of pasta, robust sauces, olive oil, balsamic vinegar, pasta serving spoon, and a chef hat. Sweeten it up with Italian cookies and some limoncello.
The Barbecue Master Basket. Perfect for the king –or queen – of the grill, you can get super creative here. A nice set of BBQ tools, seasonings & rubs, barbeque sauces, hot pads, hickory or apple chips, metal skewers, and a digital meat thermometer are just some of the items you can stuff this basket with. Want to really make an impression? A gift certificate to the local meat market will make their holiday extra great!
When it comes to gift baskets, there is no right or wrongs. They are fun to make, always get a wonderful reception, and allow you to give folks exactly what they like. Come up with your own theme and fill those baskets full!
If you have creative ideas for unique gift baskets, please share them here or over on our Facebook page.