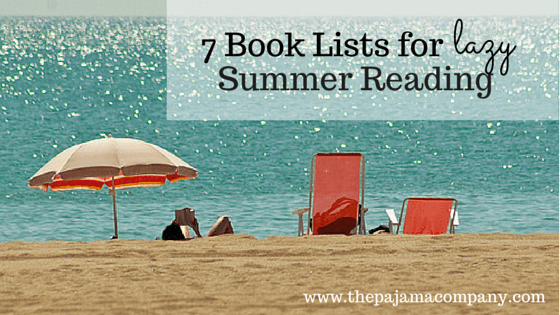 Book, books, books!
Summer is coming and that means it's time for lounging on the beach, hanging in the hammock, and just plain 'ole lazy time in the fresh air and sun. (Hello…Pajama Days!)
But, to thoroughly enjoy these days of laze, you MUST to have a good book or two by your side. So we're helping you get a jump start.  Here are 7 great book lists we've rounded up to help you find some fantastic reads:
1. NPR's Best Books of 2014. This is quite the long list, but the cool app function let's you sort through by category! This list always has really good recommendations.
2. Amazon's 100 Mysteries & Thrillers to Read in a Lifetime. This one will keep you keep you up all night with everything from Gorky Park to Encyclopedia Brown to Agatha Christie.
3. 7 Un-put-down-able Books from Modern Mrs. Darcy. Because who doesn't loooove being sucked in by a story you can't stop reading?!  Oh, and don't miss the comments section for even more page-turner recommendations!
4. The Huffington Post's 24 Books We Can't Wait to Read in 2015. New releases including books from Toni Morrison and Anne Tyler.
5. The Cozy Mystery Monthly Book List. They had us at cozy!  Mystery book recommendations dubbed cozy because, as the list author shares, they mostly "take place in a small, picturesque town or village, with characters who I could envision having as neighbors or friends."  Not a lot of blood and guts, which is fine by us!
6. 25 Travel Books Everyone Should Read from Babble. The very best travel novels, memoirs, and biographies. You won't have to go very far to spend your summer in a far off land…
7. The Best Beach Reads for a Summer Getaway from PopSugar.  A pretty diverse list.  We're checking out The Chaperone and Summerland.